Students impacted by Hurricane Katrina will be able to continue their education this semester at Westminster College, a private, church-related liberal arts college in New Wilmington, Pa.
Westminster will offer free tuition, room and board, and books for up to a dozen victims of Hurricane Katrina. The prospective students must be in good academic standing at their current institution and need to enroll at Westminster College by Sept. 20. Contact Doug Swartz, dean of admissions, for additional information at swartzdl@westminster.edu or (724) 946-7107.
"Our thoughts and prayers are with the victims of Hurricane Katrina," said Westminster College President R. Thomas Williamson. "We are close to capacity on campus, but will welcome the new students with open arms and hearts."
Westminster College is working with the Presbyterian Association of Colleges and Universities and Presbyterian Disaster Assistance on additional ways to help.
Numerous Westminster student organizations and support staff are also organizing activities to assist those in need, according to Westminster College Chaplain the Rev. James Mohr. Contact Mohr for additional information at mohrjr@westminster.edu or (724) 946-7116.
---
The brothers of Alpha Sigma Phi at Westminster College raised over $22,000 for the American Cancer Society in its ninth annual "Relay for Life."
"There were 415 registered participants and 25 cancer survivors," said Quay Rosengath, a junior public relations major from New Wilmington. "The brothers would like to thank each of them, as well as our sponsors, for their support."
Alpha Sigma Phi started this event to honor the memory of Dr. Peter Macky, a professor who died of cancer nine years ago and was close to many of the students and staff at Westminster. The fraternity has raised nearly $190,000 over the past nine years.
Sponsors include: Westminster College, Giant Eagle, Westminster Student Government Association, Zambelli Fireworks, Alpha Sigma Phi fraternity, Sodexho Dining and Catering Services, and the New Wilmington Volunteer Fire Department.
The concept behind Relay for Life involves teams of 8-15 people taking turns walking or running around the track, relay-style, for 12 straight hours. Each team member is asked to raise donations to support the American Cancer Society's services, programs, and research.
Contact Rosengarth at (724) 946-7054 or e-mail rosenwq@westminster.edu for more information.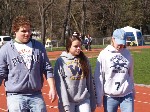 ---
Two Westminster College students won second prize in the biology division at the University of Maryland Baltimore County 4th Annual Undergraduate Research Symposium in Chemistry and Biology.
---
Westminster College will offer its students the opportunity to get a meningococcal meningitis immunization Thursday, Nov. 16, from 1-7 p.m. at the Walton-Mayne Union Lounge.
---
Westminster College has established a chapter of Alpha Kappa Delta, an international sociology honor society founded in 1920.
The first initiates are Crystal Brian, Amy Bridge, Kourtney Kissel, Jill Klobusnik, Eryn Lees, Diana Moore, and Laura Steudler.
---
Six Westminster College students have received grants to further their undergraduate research from the Drinko Center for Excellence in Teaching and Learning.
---
Nine Westminster College chemistry and biochemistry majors received summer research positions funded by the National Science Foundation (NSF).
---
The Westminster College Drinko Center for Excellence in Teaching and Learning will host "The Paradoxical Commandments: Keys to Servant Learning" seminar Monday, March 17, beginning at 9 a.m. in the McKelvey Campus Center.
---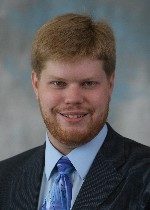 Prism, a composition for solo flute written by Dr. Daniel Perttu, Westminster College assistant professor of music, will be performed Oct. 31 at the Society of Composers' Region VIII conference at California State University, Stanislaus, in Turlock, Calif.
---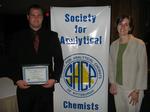 Andrew Davic, a 2009 Westminster College graduate, received one of 30 College Chemistry Awards from the Society of Analytical Chemists of Pittsburgh (SACP) at its May 11 meeting.
---
Displaying 5201-5210 of 5266 total records