Fourteen Westminster College artifacts are on loan as part of the "Cataclysm Mysteries of the Dead Sea" exhibition at the Harsco Science Center, part of the Whitaker Center for Science and the Arts in Harrisburg through January 2005.
 Many of the items on loan are from the Kim McGill and Anne McGill collections.  A 19th century North African Berber brass gunpowder flask, two wooden Egyptian shepherd's flutes, a Cleopatra coin, and Ptolemy IV coin were among the Ann McGill collection. 
An ancient Babylon brick, a matched pair of matchlock rifles from the Yemeni clan of Bin Laden, Myrrh, Frankincense, and an Egyptian vial, cosmetic applicator, and grinding stone, are from the Kim McGill collection. 
Seleucus II and Aurelian coins from the J.C. Boyd collection, and Igal and Tagiya, articles of Bodouin and Arab headdress, from the Jon McGill collection are also on display.
 This exhibit investigates the natural and cultural mysteries of the lowest point on dry land.  For more information, visit the website www.whitakercenter.org.
 For more information about Westminster College's artifacts, contact Dr. Samuel A. Farmerie, curator of cultural artifacts, at (724) 946-7053 or e-mail farmersa@westminster.edu.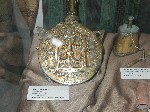 Displaying 5211-5220 of 5438 total records