The Westminster College Students in Free Enterprise (SIFE) team took first place at the "Duel in Appalachia" held at Marshall College Saturday, Nov. 6.
 "All teams were given the same hypothetical case on personal finance," said Lauren Scheller a junior business administration major from Orlando, Fla., and team member.  "The case was about a family where the father had just died and the mother of one child and one on the way needed to change her financial plans to live within a new income."
 "Each team presented recommendations about the case, and are under a time deadline to "make their case,'" said Tom Rosengarth, chair of the Department of Economics and Business and adviser to the Westminster SIFE team.
 "We researched and then presented what we thought was the best solution," said Lindsay Lutes, a junior mathematics major from Grove City and team member.  "We won first place."
 Westminster competed against Morehead State University, the University of Kentucky, the University of Rio Grande, and Glenville State College, for the regional championship.
 "Our win entitles us to go to Tuscon, Arizona, to compete in the national competition, "Duel in the Desert.'" said Sybil Feightner, a senior accounting major from Twinsburg, Ohio and team member.  "We will play against 17 teams in March at the University of Arizona."
 
For more information, contact Rosengarth at (724) 946-7169 or e-mail rosengte@westminster.edu.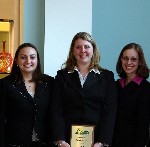 Displaying 5241-5250 of 5350 total records