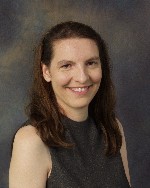 Dr. Patricia Clark, Westminster College assistant professor of history, will speak to the Erie Rotary Club Wednesday, April 29, at 12:30 p.m.
---
Westminster College recently received a million-dollar bequest from the estate of 1945 alumna Betty Naugle Parisen.
---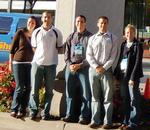 Four Westminster College senior mathematics majors and their adviser attended the National Council of Teachers of Mathematics (NCTM) regional conference and exposition Oct. 14-15 in Baltimore.
---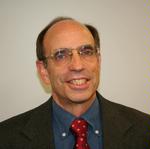 Dr. Daniel Fischmar, Westminster College professor of economics and business, presented a paper at the Western Economics Association meetings July 3 in San Diego.
---
Nearly 60 Westminster College students participated in three "Spring Break with a Purpose" work trips March 10-17.  Westminster President Dr. Rick Dorman, three faculty members, staff, and alumni joined the students on the work crews.
---
NEW WILMINGTON, Pa. - Nine Westminster College broadcast communications majors will present their capstone projects Saturday, Dec. 1, starting at 11:30 a.m. in the Sebastian Mueller Theater of the McKelvey Campus Center.  The program is free to the public. 
---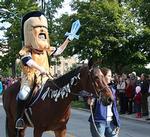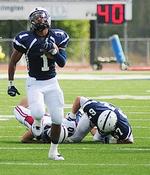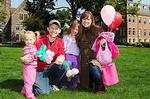 NEW WILMINGTON, Pa. - Westminster College will celebrate Homecoming with a variety of activities Oct. 11-13.
---
Dr. Deanne Buffalari, Westminster College assistant professor of psychology, will present "Using Animal Models to Study Addiction: Benefits and Barriers" Friday, Jan. 30, at 5 p.m. in room 116 of the Vincent Science Center at Slippery Rock University.  The lecture is free and open to the public.
---
Westminster College will host the second annual Pennsylvania Institute of Certified Public Accountants (PICPA) Passport to Opportunity Program Wednesday, Nov. 3, beginning at 10 a.m. in the Maple Room of the McKelvey Campus Center.
 Area students were invited to attend through their teachers or the Future Business Leaders of America (FBLA) by Meghan Reday, PICPA careers in accounting administrator.  Schools accepting the invitation included Grove City High School, Johnsonburg High School, Laurel High School, and Titusville High School.
 The program includes presentations by PICPA members including William Brown of Precision Feedscrews, Inc., Gary Dalessandro of JFS Wealth Advisors, and Robert Marut of Hill, Barth and King LLC.  After lunch the students will hear from two Westminster College students, Meredith Kerner, a senior accounting major from Greensburg, and Richard Straw, a senior accounting major from North Huntingdon.  The program concludes a campus tour.
 For more information, contact Tom Rosengarth, associate professor of accounting and chair of the Westminster College Department of Economics and Business, at (724) 946-7169 or e-mail rosengte@westminster.edu.  Additional information on PICPA is available by contacting Reday at (215) 496-9272, ext. 331.

---
The Westminster College Lifelong Learning Program offers fast-track evening classes beginning Aug. 8.
 The Lifelong Learning Program (LLP) is an undergraduate program designed especially for non-traditional students who may take classes during the day, evening, or a combination of both.  Accounting, business administration, English, and public relations majors can be completed entirely through evening course work. 
 Accelerated block classes enable students to take a variety of classes one night a week, and still take two classes per semester. Block I, which runs between August 8 to October 8, includes Principles of Accounting, Organization and Management, African-American History, Introduction to Classic Jazz, Intermediate Spanish I, and Business and Professional Communication.  Block II, which runs between October 10-December 17, include Principles of Accounting II, Foundation Drawing, African-American History, Introduction to Classic Jazz, Voice and Diction, and Communication Ethics.
 Fall Semester classes, which run Aug. 30-Dec. 17, include Worlds of Art, Computer Graphic Art, Science in Elementary School, Shakespeare, American Since 1865, Honors Colloquium, Music Elementary Teachers, Teach and Learn Music, Scuba, Principles Practices & Theory of Public Relations, Education Psychology, Understanding the Bible, Foundations of Special Education, and Journalism I & II.
 Contact Carol Yova, director of continuing education and lifelong learning, at (724) 946-7353 or e-mail conted@westminster.edu for more information.

---
Displaying 4421-4430 of 4993 total records