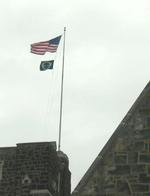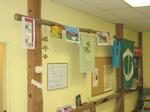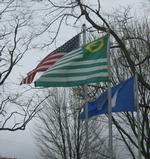 There she flies over Old Main Tower! On the string below Old Glory (and temporarily replacing the blue flag of Mother Fair) is the Green Theta! On Earth Day, April 22, this unusual flag was unfurled on the mast for a few days and represents an original Earth Day symbol.
---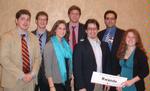 Six Westminster College students represented Rwanda in their first international Model United Nations Conference Jan. 28-31 at McGill University in Montreal, Quebec.
---
Westminster College junior broadcast communication major Alyssa Hanna's entry took the grand prize and the audience choice award in the Titan Terror Project showcase before a standing-room-only crowd Oct. 20 in the Sebastian Mueller Theater of the McKelvey Campus Center.
---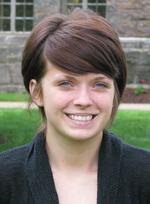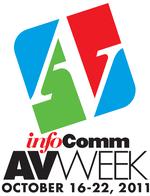 Kelly Matune, a Westminster College junior public relations major, served as a panelist for a national webinar, "AV Week 2011: Ways Your Company Can Celebrate AV Week," July 13.
---
Seven Westminster College English majors and Dr. Andrew Ade, Westminster associate professor of English, participated in the Sigma Tau Delta International Convention Feb. 29-March 3 in New Orleans.
---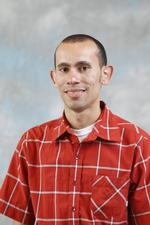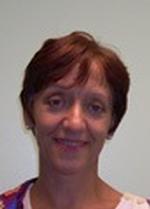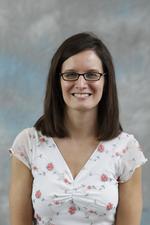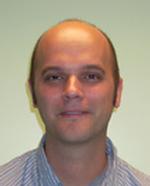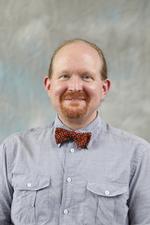 NEW WILMINGTON, Pa. - Westminster College recently added five new full-time faculty members.
---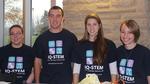 Westminster College recently awarded National Science Foundation Robert Noyce Teacher Scholarship to four students.
---
The Westminster College Men's Chorus will attend "A Young Men's Song Festival" Monday, Nov. 1, from 9 a.m.-3:30 p.m. at North Hills Junior High School in Pittsburgh.
 "The festival called 'Mucho Macho Music' will be attended by 200 young men from grades six to nine and their directors," said Dr. Robin Lind, director of choral activities at Westminster College.  "We will be the guest ensemble and will provide leadership by performing for them and with them."
 Festival hosts include Lind, Shaun Cloonan, a 2000 Westminster College graduate who is a music teacher at North Hills Junior High School, and Lisa Jaworowski, who has taught at Westminster and is currently a music teacher in the Moon Area School District.  Ashley Rexrode, a Westminster College senior music education major from Farmington, will provide accompaniment for the festival.
Dr. Kenneth Phillips, a 1967 Westminster College graduate and current professor of music at Gordon College, is the guest conductor at the festival.  Phillips is a noted specialist in adolescent vocal production.
The festival will include rehearsals of music for the male changing voice, a workshop for directors about working with the male changing voice, and an informal performance at the end of the day by the Westminster College Men's Chorus, and the Young Men's Festival Chorus.
For more information, contact Lind at (724) 946-7278 or e-mail lindra@westminster.edu.
---
Dr. Craig Caylor, assistant professor of physics at Westminster College, won the Website contest sponsored by "The Physics Teacher" journal for the months of April and May.
 "I ran across the contest at the Website for the journal in early March," Caylor said.  "There is a new challenge problem each week.  I submitted solutions to all the problems for the March, April, and May contests."
 "The problems, while complex, can mostly be solved with a careful application of the same principles introduced to students in Westminster's "Principles of Physics" course," Caylor said.  "The solution to each problem takes about two to six hours to prepare.  Much of that time is spent writing up the solution with the clearest possible presentation."
 "The Physics Teacher," published by the American Association of Physics Teachers (AAPT), sponsored this world-wide contest in celebration of the World Year of Physics, which commemorates the 100th anniversary of Einstein's published papers about his explanation of the photoelectric effect and his theory of special relativity.
 "I have really enjoyed participating in the contest and am grateful to the AAPT for sponsoring it.  Being named a winner in the faculty category for the months of April and May was a nice bonus," Caylor said.
 Caylor, who has been with Westminster College since 2001, earned his undergraduate degree from Kansas State University, and his master's and Ph.D. from Cornell University.
 Contact Caylor at (724) 946-7202 or e-mail calorycl@westminster.edu for more information.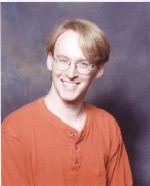 ---
The curriculum research of several Westminster College psychology professors has been published in the March issue of the Council on Undergraduate Research (CUR) quarterly magazine and featured on the cover.
"Multi-level Integration of Student Research in a Psychology/Neuroscience Curriculum" was written by Drs. Sandra K. Webster, Mandy Medvin, Jamie McMinn, Kirk Lunnen, Sherri Pataki, and Alan Gittis.
"Westminster has had a senior research requirement for over 30 years for psychology and related interdisciplinary majors," Webster said. "During the past decade we did significant restructuring of the curricula to allow for earlier, more student-led and student interactive research involvement. We also restructured the senior research requirement to provide more faculty involvement. Our new structure has produced research teams, with each member having his or her own project, but the projects related through methods and/or topics.
"Having completed eight years of the revised curriculum, we are in a position to describe its outcomes in terms of student/faculty collaborative research and student outcomes. We have national comparative data for our students that supports our claims that the research rich undergraduate curriculum benefits our student learning."
Webster, who has been with Westminster College since 1983, is also the Faculty Development Officer. She earned her undergraduate, master's, and Ph.D. from Southern Illinois University, Carbondale. Contact Webster at (724) 946-7359 or e-mail websters@westminster.edu or visit www.cur.org for more information
---
Displaying 4441-4450 of 5155 total records