Eight Westminster College students recently attended the 30th annual Midsouth Philosophy Conference at the University of Memphis.
"We all attended "The Body as the Source of Myth: Using Merleau-Ponty to Recover Carl Jung's Collective Unconscious" a presentation of alumna Ashley Williams who graduated from Westminster last year and is now working on a Ph.D. at Duquesne University," said Dr. David Goldberg, assistant professor of philosophy at Westminster College. "We also heard Eric Duffy, an adjunct professor at Westminster, deliver "Monadic Continuum and Petite Perceptions: The Sparring of Hegel and Leibniz."
Contact Goldberg at (724) 946-7153 or e-mail goldbedw@westminster.edu for more information.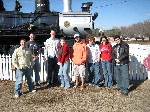 Displaying 4121-4130 of 5322 total records