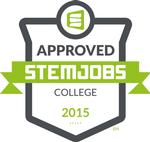 Westminster College announced that it has been designated a 2015 STEM Jobs Approved College by Victory Media, the leader in successfully connecting individuals in transition with education and career opportunities, and creator of STEM Jobs media, education and career resources for students interested in science, technology, engineering and math. The 2015 STEM Jobs Approved Colleges inaugural list is the first of its kind to rate universities, colleges, community colleges and trade schools on their responsiveness and relevance to high demand, high growth STEM occupations.
The Westminster College Men's Chorus will attend "A Young Men's Song Festival" Monday, Nov. 1, from 9 a.m.-3:30 p.m. at North Hills Junior High School in Pittsburgh.
 "The festival called 'Mucho Macho Music' will be attended by 200 young men from grades six to nine and their directors," said Dr. Robin Lind, director of choral activities at Westminster College.  "We will be the guest ensemble and will provide leadership by performing for them and with them."
 Festival hosts include Lind, Shaun Cloonan, a 2000 Westminster College graduate who is a music teacher at North Hills Junior High School, and Lisa Jaworowski, who has taught at Westminster and is currently a music teacher in the Moon Area School District.  Ashley Rexrode, a Westminster College senior music education major from Farmington, will provide accompaniment for the festival.
Dr. Kenneth Phillips, a 1967 Westminster College graduate and current professor of music at Gordon College, is the guest conductor at the festival.  Phillips is a noted specialist in adolescent vocal production.
The festival will include rehearsals of music for the male changing voice, a workshop for directors about working with the male changing voice, and an informal performance at the end of the day by the Westminster College Men's Chorus, and the Young Men's Festival Chorus.
For more information, contact Lind at (724) 946-7278 or e-mail lindra@westminster.edu.
Displaying 4141-4150 of 4943 total records