Westminster College Celebrity Series to Present Yesterday Once More: A Musical Tribute to the Carpenters April 27
Posted on Friday, April 19, 2013
NEW WILMINGTON, Pa. - Westminster College Celebrity Series will present Jim Brickman's Yesterday Once More: A Musical Tribute to the Carpenters Saturday, April 27, at 7:30 p.m. in Orr Auditorium.
With breathtaking songs that began their life with Karen and Richard Carpenter, Yesterday Once More takes audiences back in time; recapturing the music an entire generation fell in love with, and fell in love to.
"The Passion I feel creating and producing this show is a testament to the lyrics and the harmonies that made us fall in love with these hit songs," Jim Brickman said.
                                                                                                               
Yesterday Once More is enhanced with behind-the-scenes stories and anecdotes of the pop culture of the 1970s, along with lush arrangements by Jim Brickman of songs like "We've Only Just Begun," "Rainy Days and Mondays," and "Close To You."  Vocalists Michelle Carter and Maria Stuckey and international recording artist John Trones accompanied by a four-piece band bring world-class appeal to this live soundtrack of love, life and heartbreak.
The show is sponsored by Huntington.
Tickets are still available from the Celebrity Series box office at (724) 946-7354. Visit www.westminster.edu/celebrity for additional information.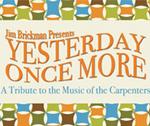 ---
More Stories