Alex Scull, a Westminster College sophomore political science major, was awarded Sigma Phi Epsilon's Buzz Ridl Scholarship for exemplifying the fraternity's three cardinal principles of virtue, diligence, and brotherly love.
---
Westminster College's Planetarium will debut a new 360-degree dome projector at the spring show beginning March 25 and continuing for several dates in April.
---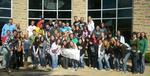 Westminster College's Sigma Nu fraternity proved David can beat Goliath with a little help from classmates and friends. The victory in the nationwide contest results in a $5,000 donation to the Mario Lemieux Foundation, the fraternity's philanthropy, and a spring SIGMApaNUza concert on campus.
---
Westminster College ranked third among National Liberal Arts Colleges in graduation rate performance, according to the 2012 U.S. News Best Colleges rankings.
---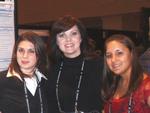 Senior capstone research projects by Westminster College neuroscience majors Kristina Scanlan and Tiffany Wilkins were published in the Journal of Student Research, a multi-disciplinary, peer-reviewed electronic undergraduate journal.
---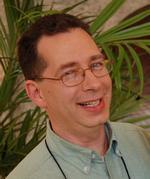 NEW WILMINGTON, Pa. - Dr. John Bonomo, associate professor of computer science, will present "There and Back Again" at the Faires Faculty Forum Wednesday, Jan. 23, at 11:40 a.m. in the Sebastian Mueller Theater of the McKelvey Campus Center.
---
NEW WILMINGTON, Pa. - Kaylynn Coates, a Westminster College alumna who received her degree in biology in May,  recently published the results of her capstone research in BIOS, a quarterly biology journal and the journal of the Beta Beta Beta Biological Society.
---
The Westminster College Celebrity Series features a holiday show with the Youngstown Symphony Orchestra and the John Pizzarelli Trio Friday, Dec. 3, at 8 p.m. in the newly-refurbished Orr Auditorium.
 "What a wonderful way to start the holiday season.  This holiday program brings back two old favorites of the Celebrity Series audience," said Gene DeCaprio, director of the Westminster College Celebrity Series.  "John Pizzarelli and his trio wowed our audience several years ago.  He is hailed by the critics for his brilliant guitar work and smooth vocals, in the Sinatra tradition."
 "Nothing is more beautiful than Christmas music played by a symphony orchestra," DeCaprio continued.  "The Youngstown Symphony under the direction of Isaiah Jackson is making its fifth appearance here, a testament to their popularity and appeal."
Westminster's Orr Auditorium has been recently remodeled to include air conditioning, stage elevator, new carpeting, and re-upholstered seats, along with stage lighting and shell improvements.
A limited amount of seating is still available.  For tickets, contact Judy Behm, acting box office assistant of the Westminster College Celebrity Series, at (724) 946-7354 or e-mail behmj@westminster.edu.
---
Students impacted by Hurricane Katrina will be able to continue their education this semester at Westminster College, a private, church-related liberal arts college in New Wilmington, Pa.
Westminster will offer free tuition, room and board, and books for up to a dozen victims of Hurricane Katrina. The prospective students must be in good academic standing at their current institution and need to enroll at Westminster College by Sept. 20. Contact Doug Swartz, dean of admissions, for additional information at swartzdl@westminster.edu or (724) 946-7107.
"Our thoughts and prayers are with the victims of Hurricane Katrina," said Westminster College President R. Thomas Williamson. "We are close to capacity on campus, but will welcome the new students with open arms and hearts."
Westminster College is working with the Presbyterian Association of Colleges and Universities and Presbyterian Disaster Assistance on additional ways to help.
Numerous Westminster student organizations and support staff are also organizing activities to assist those in need, according to Westminster College Chaplain the Rev. James Mohr. Contact Mohr for additional information at mohrjr@westminster.edu or (724) 946-7116.
---
The brothers of Alpha Sigma Phi at Westminster College raised over $22,000 for the American Cancer Society in its ninth annual "Relay for Life."
"There were 415 registered participants and 25 cancer survivors," said Quay Rosengath, a junior public relations major from New Wilmington. "The brothers would like to thank each of them, as well as our sponsors, for their support."
Alpha Sigma Phi started this event to honor the memory of Dr. Peter Macky, a professor who died of cancer nine years ago and was close to many of the students and staff at Westminster. The fraternity has raised nearly $190,000 over the past nine years.
Sponsors include: Westminster College, Giant Eagle, Westminster Student Government Association, Zambelli Fireworks, Alpha Sigma Phi fraternity, Sodexho Dining and Catering Services, and the New Wilmington Volunteer Fire Department.
The concept behind Relay for Life involves teams of 8-15 people taking turns walking or running around the track, relay-style, for 12 straight hours. Each team member is asked to raise donations to support the American Cancer Society's services, programs, and research.
Contact Rosengarth at (724) 946-7054 or e-mail rosenwq@westminster.edu for more information.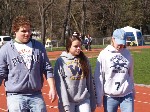 ---
Displaying 5311-5320 of 5384 total records