Rachel Delzangle, a Westminster College senior biology major, received an Undergraduate Research Grant from Westminster's Drinko Center for Excellence in Teaching and Learning.
---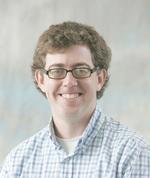 Dr. Jeffrey Boerner, Westminster College assistant professor of mathematics, presented at the American Mathematical Society's Western Sectional meeting Oct. 9-10 at the University of California, Los Angeles.
---
Westminster College announces several personal enrichment and leisure courses for community residents, covering interests ranging from understanding football to glass painting and learning a new language.
---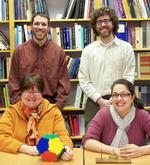 Four faculty from Westminster College's Department of Mathematics and Computer Science will present "Enriching Experiences: Research with Undergraduates" at Faires Faculty Forum Wednesday, April 18, at 11:40 a.m. in McKelvey Campus Center's Sebastian Mueller Theater.
---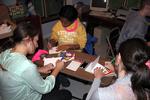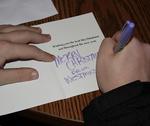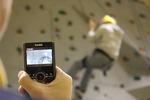 NEW WILMINGTON, Pa. - Westminster College broadcast and digital communications students from the "Video Production" and "Capstone" courses participated in a non-traditional final exams this month and spread Christmas cheer to residents at the Shenango Home and the Overlook Clinic.
---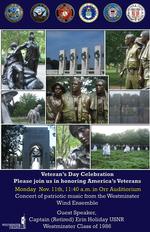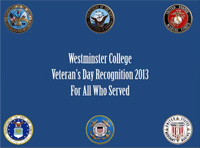 Please enjoy this brief recognition of the people of Westminster who have helped to shape history and provide the freedoms that allow so many of us to enjoy the opportunities offered by the college.
NEW WILMINGTON, Pa. - Westminster College's Office of Faith and Spirituality will host a special worship service honoring America's veterans at 11:40 a.m. Monday, Nov. 11, in Orr Auditorium. The service is open to the community.
---
Diana Reed and Deborah Roud, preschool teachers at the Westminster College Preschool Lab, had eight activities accepted for publication in "The Giant Encyclopedia of Learning Center Activities," which will be released in May 2005.
 "We were pleased to have the articles accepted by Gryphon House, Inc., which is a resource for early childhood educators," Reed said.  "The articles we submitted were descriptions of activities that are developed with the preschool child's capabilities and interests in mind."
 "The articles chosen include step-by-step directions explaining how to do the activities; the materials needed; how to extend the activity to other areas of the curriculum and books, songs, or poems that may be used in conjunction with the activity," Reed continued.
 "The curricular emphasis of the Preschool Lab is on developmentally appropriate practice, where children learn through exploration and hands-on activities," said Dr. Mandy Medvin, associate professor of psychology and Gibson-Drinko Distinguished Chair of Psychology.  "Research shows that this type of learning environment is exciting and motivating for preschoolers."
 "The Mystery of the Disappearing Picture" was just one of the activities that was accepted for publication.  In this activity, students use a white candle to draw a picture on construction paper.  Then the student "detectives" try to locate the disappearing picture painting over the candle pictures with watercolor paint. 
 "Matching Pet Prints," "Wizard's Potion," "Food Pyramids with Blocks," "Accordion Print Clues," "Classroom Cereal Box Book," "Detective Hunt," "Grocery Bag Game" were also activities chosen for publication.
 For more information, contact Reed at (724) 946-7174 or e-mail reedd@westminster.edu or Roud at (724) 946-6164 or e-mail roudds@westminster.edu.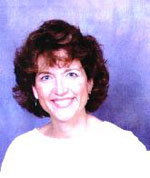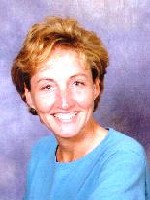 ---
Pianist Dr. Nancy Zipay DeSalvo and cellist Dr. Stephen Framil will perform a recital Thursday, Sept. 15, at 7:30 p.m. at Orr Auditorium. The event is free and open to the public.
The program includes Chopin's "Polonaise Brillante, Opus 3," Beethoven's "Sonata for Piano and Cello, Op. 69 in A Major," and Rachmaninoff's "Sonata in G minor, Op. 19."
DeSalvo, who has been with Westminster College since 2000, is chair and assistant professor of music at Westminster College. She earned her undergraduate degree from Youngstown State University, her master's from the Manhattan School of Music, and her D.M.A. from the Cleveland Institute of Music. She is a Steinway Artist, winner of the Gwendolyn Koldofsky Award, and first prize winner in the Darius Milhaud Performance Auditions.
DeSalvo is also a pianist with the Youngstown Symphony Orchestra and has been a guest soloist with the Hong Kong Philharmonic Orchestra. She performs extensively across the United States as a soloist, a professional accompanying pianist, and a chamber music collaborator.
Framil is a Philadelphia resident who served as visiting assistant professor of cello and chamber music at the University of Delaware, artist faculty at the Wilmington Music School Chamber Music Workshop, and adjudicated the 56th Hong Kong Schools of Music Festival Competition. His current academic affiliations include the Amherst String Quartet at Andews University and professeur vacataife at L'Ecole Superieure Universitaire Robert de Sorbon in France.
Framil is distinguished as the first American cellist to perform in Hanoi at the National Conservatory of Music. He is also first prize winner in the 2004 CRS Competition for Performing Artists. He has performed throughout the world.
Contact the Westminster College Department of Music at (724) 946-7270 for more information.
---
Nine Westminster College music education majors attended and participated in the Pennsylvania State Music Educators conference held in Valley Forge.
"Our students attended sessions, workshops and represented the College at our booth," said Dr. R. Tad Greig, director of bands at Westminster College. "Music educators from over 300 Pennsylvania schools attended this conference."
Attendees included:
Ellwood City, PA
Devin Householder is a son of David and JeanMarie K. Householder. Householder, a senior music education major, is a graduate of Riverside High School.
Mckees Rocks, PA
Jonathan Nickel is a son of Clinton and Debbie Nickel. Nickel, a freshman music education major, is a graduate of Montour High School.
Canonsburg, PA
Nicole Abel is a daughter of Robert and Lisa C. Lane. Abel, a senior music education major, is a graduate of Canon-McMillan High School.
Uniontown, PA
Anna Long is a daughter of Michael and Maryann Long. Long, a senior music education major, is a graduate of Youngsville High School.
Berlin, PA
Katherine Menhorn is a daughter of Norman and Joan Menhorn. Menhorn, a senior music education major, is a graduate of Berlin Brothersvalley High School.
Grove City, PA
Allison Henley is a daughter of Donald and Nancy Henley. Henley, a senior music education major, is a graduate of Grove City Area High School.
Sharpsville, PA
James Scanga is a son of James and Kimberly Scanga. Scanga, a freshman music education major, is a graduate of Kennedy Catholic High School.
Huntingtown, MD
Amanda Allwang is a daughter of William and Belinda Allwang. Allwang, a sophomore music education major, is a graduate of Northern High School.
Saline, MI
Melissa Barnes is a daughter of Brett and Christine Barnes. Barnes, a sophomore music education major, is a graduate of Saline Area High School.
Contact Greig at (724) 946-7279 or e-mail greigrt@westminster.edu for more information.
---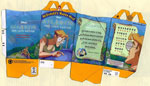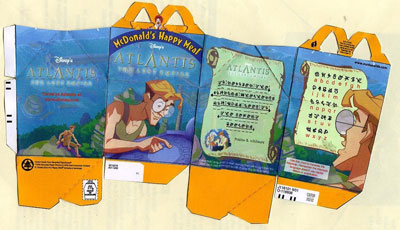 Senior Kristy Hartley, a Westminster College art major who specialized in visual communications, will present her senior art show Nov. 30-Dec. 15 at the Westminster College Art Gallery. Hours for the gallery are Mon.-Sat. 8 a.m.-9 p.m. and Sun. noon-9 p.m.
---
Displaying 5311-5320 of 5468 total records