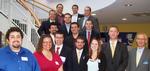 The Westminster College Department of Economics and Business hosted an alumni networking event on campus March 24.
---

NEW WILMINGTON, Pa. - Westminster College's Department of Communication Studies, Theatre and Art will host the art exhibition, Constructs, Jan. 15 to Feb. 22 at the Foster Art Gallery in Patterson Hall. This exhibition will feature text based sculptures and photographs by artist Scott Hazard. The exhibition is free to the public.
---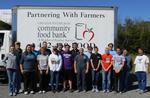 NEW WILMINGTON, Pa. - Westminster College students spent an afternoon in September harvesting corn at Apple Castle as part of the "Performing Peace" cluster course and the Greater Pittsburgh Community Food Bank's gleaning program.
---
Westminster College will host District 5 Honors Choir Saturday, Nov. 13, at 2 p.m. in Orr Auditorium.
 Eighty students from 26 area schools will perform "Make a Joyful Noise Unto the Lord," "My Heart is Steadfast," "This I Say," "The Nightingale," "All in Green went My Love Riding," "Workin' for the Dawn of Peace," "Three Scottish Folksongs," "Precious Lord," and "We Are One Voice."
Dr. Robin Lind, director of choral activities and assistant professor of music at Westminster College, is the guest conductor.  She conducts the Westminster College Concert Choir, Chamber Singers, and Men's Chorus, and teaches private voice.  Lind also coordinates the Choral Music Education program, teaches secondary choral methods, choral literature, choral conducting and supervises student teachers. 
Lind received her Ph.D. in music education from the University of Utah, her master's in music in vocal performance from the University of Oregon, and her bachelor's in music education from Albertsons College of Idaho.  For her dissertation, Lind developed a sight singing/theory program utilizing two-part species counterpoint to be used to teach music literacy at the high school level.  Current research topics include: Choral Intonation, Tuning the Text, and Student Participation in Choral Ensembles in the Public Schools.
Prior to coming to Westminster, Lind taught at Western State College in Gunnison, Colorado.  While in Colorado she guest conducted and adjudicated at choral and solo/ensemble festivals throughout the state.  Since coming to Pennsylvania, she has conducted the District 5 Choral Festival, the High School Honor Choir for the Diocese of Pittsburgh Secondary Schools, and the Region II Chorus.  Choirs under Lind's direction have toured Great Britain, Czechoslovakia, Hungary, Austria, and Italy.  The 2003 Italy Tour Choir included performances at the Basilicas of San Marcos in Venice, St. Francis in Assisi, and St. Peter's in Rome. 
 Dr. Nancy Zipay DeSalvo, chair and assistant professor of music at Westminster College, is the accompanist for the program.  She teaches private studio piano, music theory, accompanying and piano techniques associated courses.  In addition to accompanying numerous capstone senior recitals at Westminster, she has accompanied a number of guest artists, has performed on several Wednesday mid-day Faculty Forums, and has been featured several times as soloist with the Westminster Wind Ensemble.
 DeSalvo performs extensively, both on and off campus, as a soloist, a professional accompanying pianist, and a chamber music collaborator.  Among other positions, she is the pianist with the Amici Trio, is pianist with the Youngstown Symphony Orchestra, and has been guest soloist with the Hong Kong Philharmonic Orchestra.  In April 2002 she became a Steinway Artist.
 DeSalvo completed a doctor of musical arts degree at the Cleveland Institute of Music in Collaborative Piano, where she was a student of Anne Epperson.  She and baritone singer Jason Fuh captured first prize for their performance of  "Four Claudal Poems" in the Darius Milhaud performance auditions held at the Cleveland Institute of Music.  In 1997 DeSalvo received the Gwendolyn Koldofsky Award, given at the discretion of the Cleveland Institute of Music faculty to a collaborative piano major who has special aptitude for vocal accompanying, and who exemplifies the important dual role of the profession , that of support, service and cooperation, balanced with professional skill and high standards of performance.
 The event is free and open to the public.  For more information, contact Lind at (724) 946-7278 or e-mail lindra@westminster.edu.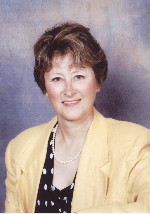 ---
Dr. Charlene Endrizzi, associate professor of education at Westminster College, was recently published in the "Ohio Journal of English Language Arts."
"My research, 'Honoring Parents Questions: Room 2A's Family-Teacher Literacy Conversations,' is based on a year-long study conducted in a second grade classroom several years ago," Endrizzi said. "The classroom teacher, Karen Tarka, spent the year looking at ways to build a more productive literacy partnership with parents. Monthly family literacy gatherings enabled them to learn about these second grade family's literate ways of knowing and to share their beliefs about reading and classroom practices."
The article was co-authored by Tarka, who teaches second grade at Mohawk Elementary. Tarka received her master's in education from Westminster College in 1997 and currently resides in New Springfield, Ohio.
"Karen regularly works with Westminster student teachers and junior block students," Endrizzi said. "Each year she has our students in her classroom, learning along side her. She is a master teacher who helps our students learn to carefully watch and respond to children's needs."
Endrizzi received her undergraduate and master's degrees from Fresno Pacific College and her Ph.D. from the University of Arizona. Endrizzi obtained funding for this research project from the Westminster Faculty Development Research Fund.
Contact Endrizzi at (724) 946-7189 or e-mail endrizck@westminster.edu for more information.
---
The Westminster College Men's and Women's Choirs will present a spring concert Wednesday, May 3, at 7:30 p.m. in Wallace Memorial Chapel.
Directed by Dr. Robin Lind and accompanied by Katie Menhorn, a junior music education major from Berlin, the men's choir will perform: "The Mansions of the Lord" from the movie We Were Soldiers; Grotenhuis' "O God of Love, O King of Peace;" Haydn's "Glorious Things of Thee are Spoken;" Wright's barbershop song, "Hello Mary Lou;" and Kedroff's "Our Father." Schubert's "Standchen" will be accompanied by Rachel Hammond, a sophomore theatre major from Hawley, and Menhorn, will sing the contralto solo. "Vive L'Amour" will feature a solo by Benjamin Wacker, a senior theatre major from Industry. Martin's "The Awakening" will be under the baton of student director Devin Householder, a junior music education major from Beaver Falls.
Under the direction of Kris Harper, the women's choir will sing: Young's "How Sweet the Moonlight Sleeps;" a Russian folk song, "Birch Tree;" an American folk song, "Shenandoah;" "Deep River;" "Popular" from Wicked featuring soloist Christina Commisso, a sophomore Spanish major from Pittsburgh; and a spiritual "Elijah Rock."
The women's chamber ensemble will perform: "O Mio Babbino Caro" from Gianni Schicchi featuring soloist Alicia Tansey, a freshman music performance major from Exton; "Hail Holy Queen" from Sister Act and three Moravian duets, "Dydy Byla Kosa Nabrosena," "Slavikovsky Poolecko Maly," and "Holub Na Jovore."
Contact the Westminster College Music Department at (724) 946-7270 for more information.
---
Keith Summerville, a 1995 Westminster College environmental science graduate, will present his research findings at a biology colloquium Thursday, Nov. 29, at 5 p.m. in Phillips Lecture Hall located in the Hoyt Science Resources Center of Westminster College.
---
Dr. Cary W. Horvath, assistant professor of communication studies, recently finished an instructor's manual for the textbook, The Interpersonal Communication Book.
---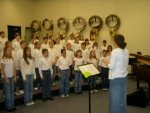 Dean Wilson
, music teacher at Boardman Elementary School, recently brought his fourth grade music class to Westminster College to give a concert to Westminster students.
"They came via yellow school bus," said Dr. Grover Pitman, professor and chair of music at Westminster.  "After a walking tour of the campus and a pizza dinner, they changed into their concert attire of white shirts and blue jeans and performed a 75-minute concert for our students in the band room."
---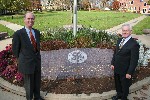 Westminster College will recognize the sacrifices made by U.S. military service personnel in Operation Enduring Freed and Operation Iraqi Freedom by creating the Westminster College Patriots' Scholarship Program.
---
Displaying 5301-5310 of 5387 total records