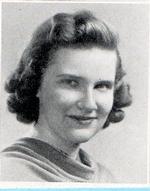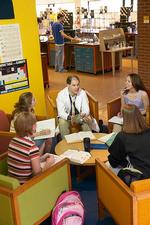 NEW WILMINGTON, Pa. - Westminster College received the largest gift in its 160-year history as a result of a $7 million bequest from Helen Louise Lemmon. The gift will be used to endow The Lemmon Family Scholarship for students seeking careers in the sciences.
---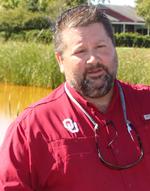 NEW WILMINGTON, Pa. - Dr. Robert W. Nairn, professor at the University of Oklahoma (OU), will present "Reversing the Irreversible: Passive Treatment of Mine Waters in a Drastically Disturbed Watershed" at 12:45 p.m. Thursday, Nov. 7. The presentation will take place at Westminster College's Phillips Lecture Hall in the Hoyt Science Resources Center. It is free and open to the public.
---
Westminster College business students have the opportunity to compete for the David W. Edward Entrepreneurship Scholarship.
 "Any Westminster student who has at least 24 credit hours in accounting, business administration, or economics is eligible to compete for this scholarship," said Tom Rosengarth, chair of the Westminster Department of Economics and Business.  Teams can be one to three members who would share the $2,500 scholarship.  I encourage all qualified students to take advantage of this realistic learn-by-doing opportunity."
 The scholarship was established by Youngstown native and long-time friend of Westminster College David Edward.  It will be awarded to the winner of a business plan, which includes a business name, logo, and location.  In addition the team must submit an assessment of the business environment, a marketing plan, a resource/operating plan, a financing plan, and projected financials.  Judging, which will be scored by non-faculty business professionals, will be based on creativity of business concept, reasonableness of assumptions and projections, professional writing, and persuasiveness of the oral presentation of the business plan.
 The deadline for submitting written business plans is March 18, and the scholarship will be announced April 30 at Westminster's Honors Convocation.
 For more information about this scholarship, contact Rosengarth at (724) 946-7169 or e-mail rosengte@westminster.edu.
---
The 112-member Westminster College Titan Marching Band has a busy fall schedule, including five home football games and four band festival competitions.
"The band begins in Ohio at the Beaver Local Marching Band Festival Saturday, Sept, 10, at 7 p.m.," said Dr. R. Tad Greig, director of bands at Westminster College. "The Beaver Local Band is directed by Westminster 2001 graduate Matthew Newman. The junior high band director at Beaver is David Zaccari, also 2001 Westminster graduate and Shawn Taylor, a 2004 Westminster graduate, is the choir director."
Westminster's marching band will travel to the Brentwood Marching Band Festival Sept. 17 at 7 p.m. and then back to the Lawrence County Marching Band Festival Wednesday, Sept. 21 at 7 p.m. at Neshannock High School. John Westcott, a 2003 band director at Union High School.
"The final guest performance is at Girard High School in Erie on October 22," Greig said. "Our band will be guest performers for a Lakeshore Marching Band Association Band Competition. The director of bands at Girard is 2003 Westminster graduate Chris Dearbeck."
The main show for the Titan Marching Band consists of a wide variety of music beginning with "Takin' It to the Streets," a Doobie Brothers classic. The band then moves into a Latin/jazz style with "Sierra Sister." The second half of the show is music from "Cirque du Soliel" feature "Atmadja" and "Incantation."
"As usual, the marching band will provide pre-game and halftime performances at all home Titan football games," Greig said. The music is memorized and is combined with 28 pages of marching drill with over 1,400 steps learned during band camp this summer.
"The drill movement on the field is very intricate, combining the sights and sounds into a pleasing performance. Each year I challenge the band more with what I ask them to play and with the difficulty and intricacy of the marching drill, and each year these wonderful students meet and seek to surpass these challenges. I am very proud of them, and how they represent themselves."
Contact Greig at (724) 946-7279 or e-mail greigrt@westminster.edu for more information.
---
Brett Hoover, a freshman history major at Westminster College, recently received the "Excellent Delegate Award" at the Mid-Atlantic Model United Nations Consortium held at St. Bonaventure University in New York.
"A panel of judges, composed of the advisers from the participating colleges, ranks the students throughout the day," said Dr. Andrea Grove, founding member of the consortium and assistant professor of political science at Westminster College. "The criteria are things like how well a student plays the role of his or her country; how active are they in debate and caucusing to write a resolution; and how well the student uses the procedures of debate from Roberts Rules. I am proud of Brett's accomplishment."
The members of the Westminster team attending this event include:
New Wilmington, PA
Jessica Altman is a daughter of John and Joan Altman. Altman, a senior elementary education major, is a graduate of Wilmington Area High School.
Youngstown, OH
Nawal Rajeh is a daughter of Ghassan and Soumaya Rajeh. Rajeh, a senior political science and individual interdisciplinary major, is a graduate of Austintown-Fitch High School.
Clovis, CA
Brett Hoover is a son of John and Paula Hoover. Hoover, a freshman history major, is a graduate of Bedford High School.
Other teams in the scrimmage were Indiana University of Pennsylvania, Lakeland College, and Mercyhurst College.
"A model UN is a way for students to learn about the United Nations, contemporary international issues, multilateral diplomacy, how to see problems from various perspectives, and how to engage in role playing," Grove said.
Contact Grove at (724) 946-7254 or e-mail groveak@westminster.edu for more information.
---
Two teams of Westminster College computer science majors competed recently at the Association of Computing Machinery (ACM) and placed 19th and 29th in a field of over 110 teams.
---
Westminster College will host "Green Careers Videoconference 2000" Thursday, Nov. 9, from noon-2 p.m. in Hoyt Science Resources Center room 152.
---
Dr. Gerald Oglan
, associate professor of education from Wayne State University, recently advised undergraduate and graduate education students at Westminster College on how to communicate with parents.
In "Parenting in the Empowerment Zone," Oglan talked about his current research in Detroit with inner city parents and teachers.  Over the past 15 years, Oglan has focused his research on supporting teachers and parents as they explore children's literacy development.  His recent books, Parent to Parent: Our Children, Their Literacy and Write, Right, Rite, offers teachers and parents an in-depth look at children's literacy and spelling growth.
---
The Westminster College Faculty Woodwind Quintet will present a concert Tuesday, Nov. 7, at 8 p.m. in Wallace Memorial Chapel.
---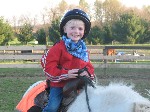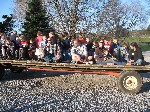 Parents' Night at the Westminster College Preschool took the families to "The Wild, Wild West" of Little Neshannock Stables.
---
Displaying 5301-5310 of 5420 total records