Westminster College Faculty Spend Residency in Israel at Western Galilee College
Posted on Thursday, July 12, 2012
NEW WILMINGTON, Pa. - Westminster College faculty members Dr. Carolyn K. Cuff, professor of mathematics, and Dr. Timothy Cuff, associate professor of history, recently returned from Akko, Israel and a one-month residency at Western Galilee College, as part of Westminster College's on-going efforts to build academic connections with Western Galilee College. 
The Cuffs spent May in residence strengthening ties with Western Galilee's faculty and staff, gaining a better understanding of Western Galilee's academic program, and exploring potential collaborations between students and faculty at the two colleges.
Timothy Cuff delivered two lectures while at Western Galilee: "The U. S. Electoral College:  History of A 'Weighted' System," given to a political science class, and "Why Would Anyone Care How Big I Am? (And Want to RETRIEVE That Number)," given to a computer information systems class.  Cuff also lectured at the University of Haifa to a class of upper-division students in economics on "What is Anthropometric History and What Can It Tell Us About Economic Well-Being?"
In order that they might have a better understanding of the country and how their students might benefit academically from the relationship, faculty and staff at Western Galilee assisted the Cuffs in exploring much of the Galilee region of northern Israel including sites of geological, archeological, religious and historical interest.
Just prior to their return, the Cuffs participated in the Fourth Bridges International Faculty Workshop hosted this year by Western Galilee College.  This workshop, which involves numerous faculty members from both colleges, has already created a platform for several productive research collaborations and also yielded a number of conference presentations and publications. 
The conference and faculty travel was partially underwritten by the Youngstown Area Jewish Federation, Westminster's Faculty Development Program, and the offices of the Academic Dean and President.
Contact Timothy Cuff at (724) 946-6152 or email for additional information.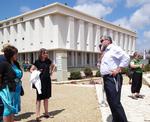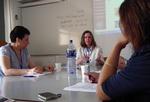 ---
More Stories