Westminster College Art Professor Learns New Talent
Posted on Friday, September 15, 2000
Kathy Koop, professor of art at Westminster College, recently attended an intensive class in "The Greenwood Chair" at the Anderson Ranch Art Center in Aspen, Colo., a class which she will offer to Westminster College students in the spring.
The furniture is made from young Aspen trees that grow on runners from older trees that need to be thinned out. Koop and her class had permission to harvest from an area of tennis star Martina Navatalova's forested estate in Aspen. The willow used for the seats, backs, and arms of the chairs were cut from a type of willow bush/shrub, not a willow tree. This type of bush grows wild, and what is harvested one year grows back the next.
The project is all worked with green wood so it will bend, but just after the chair is finished, a mixture of varnish, paint thinner and boiled linseed oil is applied to slow down the drying time to prevent cracking. The chairs are functional after this is applied, but a second coat is applied after six months, as the wood changes from a light color to darker tones.
Koop will introduce this rustic furniture making process to Westminster College students this spring in her class, Basic Studio three-dimensional Design.
Koop, who has been with Westminster College since 1973, earned her undergraduate and master's degrees from Indiana University.
For more information, contact Koop at (724) 946-7267.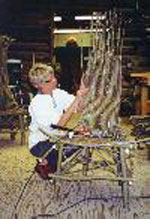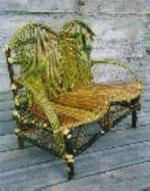 ---
More Stories