Westminster College honored 40 employees for 803 years of combined service at a luncheon May 6 in the Witherspoon Rooms of the McKelvey Campus Center.
---
Eric Dickerson, creator and president of Eric Dickerson Associates, will present "Knowing the Fundamentals of Personal Finance," the fourth in Westminster College's "Get Real!" life preparation series, Thursday, March 25.
---
Gina Sharbaugh, Westminster College senior associate director of admissions, will visit high schools in southwestern Pennsylvania the week of Nov. 22.
---
Westminster College is ranked sixth among the nation's top 249 liberal arts colleges for "serving as an engine of social mobility," according to the Washington Monthly 2011 College Guide.
---
Westminster College's Language in Motion program will host 113 high school students from Wilmington Area School District and Our Lady of the Sacred Heart High School for the sixth annual Foreign Language Intercultural Day Friday, April 13.
---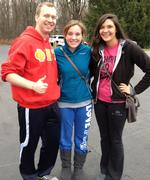 NEW WILMINGTON, Pa. - Three Westminster College students participated in the 73rd  Annual William Lowell Putnam Mathematical Competition Dec. 1. 
---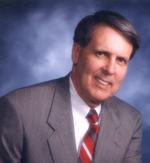 NEW WILMINGTON, Pa. - Dr. Robert Zorn M`64, director of Westminster College's Graduate School, will have an article published in the November edition of School Administrator magazine.
---
Dr. Jeffrey Taylor, assistant professor of biology at Slippery Rock University, will discuss his research on the genetics of corn Thursday, Nov. 18, at 7 p.m. in Phillips Lecture Hall located in Westminster's Hoyt Science Resources Center
"Identifying Gibberella Ear Rot Resistance Loci in Corn" will focus on Taylor's research on the genetics of corn and investigations to identify the genes responsible for providing resistance to a common fungus.
 "Gibberella ear rot is a fungal disease that greatly reduces crop yield in corn and also makes corn unpalatable as feed for animals because of the secretion of toxins," said Dr. Shahroukh Mistry, assistant professor of biology at Westminster College.  "The ability to identify and map molecular markers linked to genes for resistance to Gibberella will provide significant agricultural benefits and permit the development of crop breeds that naturally resistant to this fungus."
In addition to his work on fungal resistance, Taylor has conducted research on how ectomycorrhiza, special fungi that live symbiotically with plants root, help plants in the absorption of nutrients from the soil.
 The event is free and open to the public.  For more information, contact Mistry at (724) 946-7210 or e-mail mistrys@westminster.edu.
---
The Westminster College Celebrity Series 2005-2006 season premiers with the Broadway production of "42nd Street" Tuesday, Sept. 27, at 8 p.m. in Orr Auditorium.
"It's my favorite musical," said Gene DeCaprio, director of the Westminster College Celebrity Series. "It's pure entertainment from the moment the curtain raises. It's generally felt that this is America's favorite musical."
This Broadway legend is the winner of the 1980 Tony Award for "Best New Musical" and the 2001 Tony Award for "Best Musical Revival." It's a star-is-born story with a score of hit standards, the largest show chorus, and an admired ensemble of tap dancing that ran for more than eight years on Broadway
The music features "We're in the Money," "Shuffle Off to Buffalo," "Lullaby of Broadway," "I Only Have Eyes for You," and the spectacular title number, "42nd Street."
Westminster's Orr Auditorium has been recently remodeled to include air conditioning, stage elevator, new carpeting, and re-upholstered seats, along with stage lighting and shell improvements.
A limited amount of seating is still available. For tickets, contact Connie McGinnis, assistant director of the Westminster College Celebrity Series, at (724) 946-7354 or e-mail mcginncl@westminster.edu.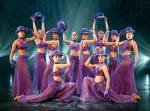 ---
Kappa Mu Epsilon, a national mathematics interest organization, inducted 10 Westminster College students at the annual Mathematics and Computer Science Department Spring banquet held recently in the McKelvey Campus Center.
Kappa Mu Epsilon is designed to further the interest in mathematics in schools that place their primary emphasis on undergraduate programs. Requirements include at least a 3.0 grade point average out of a possible 4.0, and current enrollment in a mathematics class. The purpose for this organization includes aiding undergraduates in understanding the important role mathematics has played in the development of Western Civilization, providing a society to recognize the outstanding achievement in mathematics study at the undergraduate level, spreading the knowledge of mathematics and familiarizing members with the advances being made in mathematics.
Awards and scholarships were also announced at the banquet. Nicole Panza received the Mathematics Book Award and the Thomas R. Nealeigh Mathematics Scholarship; Andrew Polack received the Computer Science Book Award; Curtis Yenyo received the Paul E. Brown Memorial Scholarship; and Courtney Gilmore and Sarah Spardy received the Harriet Jackson Sarver Scholarship.
Special recognition went to the Denison University Programming Contest Teams: Stack Overflows which included Jeremy Alberth, Ryan Moore, and Jacob Romigh; and Null Pointers, which included Colin Dean, Peter Lukich, Nicole Panza and Andrew Slane. Recognition also went to the Geek Week Team of Amber Bollard, Colin Dean, Larissa Fortna, Samantha Leipheimer, Nicole Panza and Sarah Spardy; and the Mathematical Modeling Contest winners including Lariss Fortna, Beth Kribel, and Nicole Panza.
The department also recognized the Mathematical Modeling Contest team of Larissa Fortuna, Beth Kribel, and Nicole Panza, as well as the participants in the Nebraska Conference for Undergraduate Women in Mathematics, Courtney Gilmore and Sarah Spardy.
The event continued with the recognition of the Putnam examination participants, Christie Grewe and Andrew Murphy, and the Youngstown State University Pi Mu Epsilon Regional Conference, Lauren Beichner, Brian Fadden, Christie Grewe, Nicole Panza, Bryan Bischof, Courtney Gilmore, Allison Rook and Andrew Polack.
Honored guest at the banquet was Harriet Jackson Sarver, a 1936 Westminster graduate and longtime supporter of the Westminster Mathematics and Computer Science Department.
Contact Dr. Carolyn Cuff, professor of mathematics and chair of the Department of Mathematics and Computer Science, at (724) 946-7291 or e-mail ccuff@westminster.edu for more information.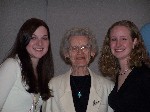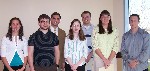 ---
Displaying 4581-4590 of 4923 total records