Thirty-two Westminster students have been selected for membership in Omicron Delta Kappa, a national leadership honor society for juniors and seniors.
Omicron Delta Kappa is an honor society designed to recognize juniors and seniors who have attained a high standard of leadership in collegiate activities. To be eligible, students must have a GPA ranking in the top 35 percent of their class and have at least one term of leadership experience at Westminster College.
The recipients of this honor will be recognized at the Westminster College Spring Honors Convocation Saturday, April 29, at 11 a.m. in Orr Auditorium.
Contact the co-advisors of Omicron Delta Kappa: Dr. G. Samuel Lightner IV, professor and chair of physics, (724) 946-7204 or e-mail lightner@westminster.edu; or Dr. Virginia Tomlinson, director of the Drinko Center and associate professor of sociology, (724) 946-6033 or e-mail tomlinvm@westminster.edu for more information.
---
Westminster College is one of the nation's best institutions for undergraduate education, according to The Princeton Review, the New York-based company known for its test-prep and education services.
---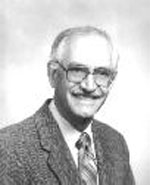 Dr. Clarence E. Harms, professor of biology at Westminster College, focuses on an unusual post-holiday project - saving live Christmas trees for animal food and habitat.
---
Bachelor degrees were awarded to 285 students at Westminster College's commencement service Saturday, May 18.
---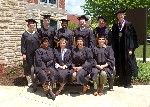 In conjunction with National Non-Traditional Students Week, the Westminster College Lifelong Learning Program (LLP) is inviting potential students to attend a class the week of Nov. 5-11 free of charge.
---
Westminster College psychology students will attend and present their research at the 35th annual Hunter College Psychology Convention/11th annual North East Undergraduate Research Organization for Neuroscience (NEURON) conference in New York City April 28.
---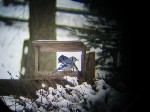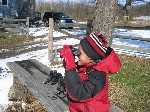 February 15 to 18 is bound to be a busy weekend at the Field Station. The Great Backyard Bird Count will be underway Friday through Monday and on Saturday friends of the Field Station will gather at 9:30 for the annual Winter Chipping Party when Christmas trees will be turned into compostable wood chips. We need help. The college and community are invited to both events. 
---
Gavin Buckholtz, a Westminster College junior chemistry major, and Emily Landis, a sophomore chemistry major, received undergraduate research grants from Westminster's Drinko Center for Excellence in Teaching and Learning.
---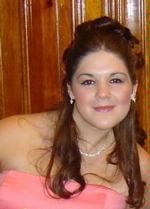 Westminster College mezzo soprano Sarah Filson and bassoonist Stephen Wheeler will present their senior recital Saturday, May 2, at 3 p.m. in Wallace Memorial Chapel. The concert is free and open to the public.
---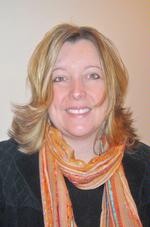 Westminster College's Peace Studies Coffeehouse will host Wendy Kinnear for a presentation on children's homelessness Monday, March 22, from 4:15-5:30 p.m. in the Sebastian Mueller Theater of the McKelvey Campus Center. The event is free and open to the public.
---
Displaying 4581-4590 of 5126 total records