Delores Natale, a lecturer of public relations at Westminster College, recently presented "From Typist to Tyrant: Film's Portrayal of Women in Journalism" at the 17th annual Far West Popular Culture Conference in Las Vegas.
 "I used excerpts from four different films produced between 1940 and 1994 to illustrate both stereotypical and balanced portrayals of women in journalism, Natale said.  "Implicit in the research is the influence the writers and actors had on either contributing to or debunking stereotypes."
 Natale, who has been with Westminster College since 2001, earned her undergraduate degree from Westminster College.
Contact Natale at (724) 946-7348 or e-mail nataleda@westminster.edu for more information.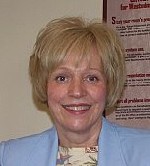 The Westminster College Wind Ensemble will present "Music Through the Ages," Friday, March 24, at 7:30 p.m., in Orr Auditorium.
"As we commonly do, the ensemble will perform a diverse program including Ron Nelson's Homage to Perotin, which was written to celebrate the contributions of the three early music masters: Leonin, Perotin, and Machaut," said Dr. Tad Greig, director of bands at Westminster College. "This particular movement is a wonderful opening, featuring fanfares in the brass and running lines throughout the woodwinds, punctuated by percussive accents."
The second number, Sol Solitar, was composed by Timothy Mahr, director of wind studies at St. Olaf University. It was dedicated to Anne Steiner, a friend whose life was tragically cut short. This piece has interesting additions including piano, rain sticks, bowed vibraphone, and vocals by an ensemble.
Four Dances from "West Side Story" features the Westminster College Dance Theater, directed by Gina Sharbaugh, who choreographed a dance to this work. "I am excited by the melding of the arts in this collaborative experience," Greig said.
"We will conclude with an epoch work, Carmina Burana," Greig said. "This masterwork has challenged the ensemble because of its magnitude and its duration. William Ambert and Dr. Anne Hagen-Bentz, vocal faculty at Westminster, will perform two of the solo arias. While slightly shorter in duration than the original work scored for a full chorus, vocal soloists, and full orchestra, this work is still full of pomp, pageantry, subtle beauty, humor, and anger."
The evening is free and open to the public, although a free-will donation will be taken before and after the concert to help defray the cost of the tour to Spain planned for the fall.
Contact Greig at (724) 946-7279 or e-mail greigrt@westminster.edu for more information.
Displaying 4191-4200 of 5322 total records