College to Host Classical Guitarist in Concert April 26
Posted on Monday, April 23, 2012
Westminster College will host classical guitarist David Sossa Fernández in concert Thursday, April 26, at 6 p.m. in McKelvey Campus Center's Witherspoon Maple Room.  The program is free and open to the public.
A native of Colombia, Fernández earned an undergraduate degree in classical guitar from the University of Antioquia and was a member of several musical groups that played bossa nova, traditional Colombian music, rock, and blues.  He has taught classical and folk guitar and piano in Colombian musical academies, including Amadeus, Metropolitan Institute of Education, and Coral Tomás Luis de Victoria, where he served as director and conductor of the Colombian traditional music ensemble.  He is currently a first guitar in the Toronto Guitar Society Orchestra.
The concert is sponsored by Westminster's Department of Modern Languages and International Cultures Club.
Contact Brenda Swart, Westminster visiting Spanish lecturer, at (724) 946-7563 or email for additional information.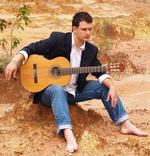 ---
More Stories