Because of You...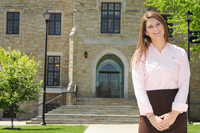 "I came to Westminster College to study Political Science and Sociology, and Because of You, I have been able to pay it forward and inspire disadvantaged women. We learn a lot about the effects of research on social policy in my classes, but I now have a firsthand understanding of how it can be applied. I want to enter a career in social policy reform and teaching classes at a prison has given me the motivation to make my goal a reality. The women at Cambridge Springs Women's Correctional Facility continually told us that they felt like they did not have a voice. My Westminster education combined with this direct service has given me the confidence and drive to serve as that necessary voice."
- Katelyn Moga, Class of 2012, Ashtabula, Ohio
---
The Institutional Advancement office connects Westminster College and its various constituents. The departments of Alumni and Parent Relations, Advancement and Development Programs, Communications & Marketing, and Celebrity Series work together to advance Westminster's educational mission.
We hope you find the information you need to stay connected to Westminster.
Grady B. Jones
Vice President for Institutional Advancement
Online Career Networking
---
The Westminster Career Center is available for alumni.
Click here
for the Career Center's website.
Join the Westminster Connections LinkedIn Network.
Online Social Networking
---
Follow our social networking profiles for current campus news, alumni event information and more.
Facebook
Twitter
Vimeo
---