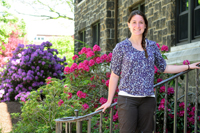 ---
Who do you hope to see at your reunion? Post, text, tweet, email, call or write them now and make plans to meet on campus during Homecoming & Reunion Weekend! If you would like to help plan your reunion activities, contact the alumni office at alumni@westminster.edu or (724) 946-7364.
Career Networking
---
Career Center
Located on the top floor of McKelvey Campus Center, the Westminster Career Center offers many valuable services to students, alumni and employers.
LinkedIn
The Westminster PA College LinkedIn group provides an exclusive opportunity for members of the Westminster community to network and support one another. The Office of Alumni Relations and Career Center work together to support Westminster students, alumni and friends as they grow their careers.
Social Networking
---
Follow our social networking profiles for current campus news, alumni event information and more.
---
Want to reconnect with a Westminster roommate, team member or friend? Looking for fellow alumni from your class, home area or in a similar occupation? Titan Tracker, an online alumni directory, provides secure access to search for alumni using a variety of criteria.
The directory is accessible only to Westminster alumni with My Westminster accounts. If you are able to log in to My Westminster, click here to access the directory. If you would like access to Titan Tracker but do not currently have access to My Westminster, please contact the alumni office at alumni@westminster.edu or (724) 946-7364.