Westminster alumni are involved in a wide variety of professions and service. Each month Alumni Council spotlights an alum and their journey since graduation. Suggestions for alumni to spotlight are welcome. Please send names and contact information to the alumni office, alumni@westminster.edu.
George W. Walker III '66, English major, was raised in Buffalo, NY. I was never good at remembering dates, so I don't recall the exact date of my graduation. Suffice it to say that when I attended Westminster, mastodons still roamed the earth. The best word George could think of to describe Westminster is "world-opening." "I learned how to think; how to explore; how to come intelligently to my own conclusions".

To read more about George Walker, click here.
---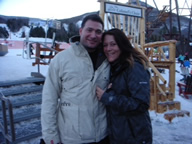 Kristen Kress '02, Theatre major, when asked the question "tell us a bit about yourself (where you're from, what you studied at Westminster and a bit about your career", this was her reply.
I am from Pittsburgh, the South Hills specifically, and I graduated from Westminster in 2002. I majored in Theatre there and loved every minute. I am currently living and working in NYC as a freelance director, actor and producer. I am in my final year of grad school at the Actors Studio (you may be familiar with our TV show on Bravo, "Inside the Actors Studio," hosted by James Lipton), where I am receiving my Masters of Fine Arts in Directing in May. I have a freelance production company called Brain Fry Productions, LLC. We just completed a series of interviews at NYC Comic Con, as well as the trailer for the final book in the young adult fantasy series, the Star Child by Amazon bestselling author, Stephanie Keyes. Additionally, I have been working with the Investigation Discovery Channel on a new show coming out in November 2013, called "A Crime to Remember," as well as on the current season of "Stalked." Finally, one of my short films, "Super Grannies Bridge Club," is currently touring independent film festivals & recently won several awards including "Best Family/Children's Programming and Best Supporting Actor. If you want to kill some time, feel free to visit my websites: http://kristenkress.com and http://brainfryproductions.com.
"The crucible pic is from Westminster. I believe that was the fall of 2001, and I am with WC alum Brad Dell '02 and Maggie Muir, Eileen Hendrickson, former theatre department chair/director/professor, and her husband Mark, as well as alumni Kristy Bronder '01 and her sister Jen Bronder '98."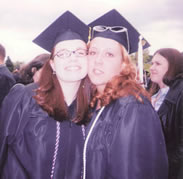 WC graduation with Rachel Jedinak '02, fellow RA in Shaw Hall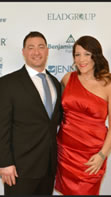 ---
Mark Finkelpearl, a Westminster College graduate of 1989, volunteered to share his Westminster story. As a Telecommunications major with an English minor, Finkelpearl focused his college career heavily on his experience in radio and television. As a native of Pittsburgh, Finkelpearl appreciated the difference in Westminster's accessibility, particularly in the television and radio stations, which a university could not offer. He was also influenced by the unique, interesting appeal of Westminster's faculty, both within the Telecommunications and English departments. Westminster has affected Finkelpearl deeply on a personal level, as well. Westminster taught him to be an open-minded individual. As liberal arts education promises, students will leave "better and more well-rounded as a person." Furthermore, Westminster's friendly atmosphere gave Finkelpearl lasting friendships and unforgettable memories. Additionally, Westminster has proved to be helpful for Finkelpearl in career application and practicality. He explains, "It was about trying to gain real world experience inside the school that could then apply to your career down the road." His career certainly has taken him quite a ways down the road, and he moved to Los Angeles, California a year after graduation. Finkelpearl believes that to accomplish your dreams and goals, you have to embrace change and move forward fearlessly. "I think that's the best piece of advice you can have. Grab life by the horns and take command of your life moving forward and don't just wait for opportunities to come to you, go out and create opportunities for yourself."



To read the full interview with Mark Finkelpearl, click here.