A LOOK BACK AT WESTMINSTER COLLEGE ALUMNI ACTIVITIES
1865 – First recorded organized alumni activity. Alumni Day continued to be celebrated prior to Commencement for many years.
1884 – Alumni Association was formally organized. Alumni were asked for an "annual tax" of $1 to cover expenses and purchase books for the Alumni Alcove in the College Library.
1888 – Alumni Association undertook a project of raising $25,000 for the endowment of a professorship.
1890 – First off-campus alumni meeting at the Hotel Scholosser in Pittsburgh.
1914 – Alumni contributions helped purchase 10 additional acres for the new athletic field.
1923 – Homecoming first celebrated.
1934 – Publication of Westminster Alumni News, a sixteen-page quarterly began with Professor R. X. Graham serving as the editor.
1938 – Blue & White a monthly magazine for alumni and friends of the College replaced the Westminster Alumni News.
1951 – A new record was set for alumni giving at $142,189.62.
1955 – First presentation of Alumni Achievement Awards
1958 – First homecoming parade.
1978 – Six classes celebrating reunions opt to hold reunion in conjunction with homecoming festivities rather than in the spring. The 15th reunion included three classes as a tri-class reunion.
1981 – Westminster Magazine, a quarterly publication for alumni, replaced the Blue & White.
1988 – Class reunions combined with fall homecoming festivities.
1997 – Reunions shift to the tri-class or cluster format.
2001 – Giving to the College surpassed $10 million as a result of alumni and friends support for the McKelvey Campus Center Project and The Westminster Fund.
2001 – First Outstanding Young Alumni Award presented.
2012 – Alumni Council approves Building Upon Tradition, Sharing Our Stories, 2012 – 2017 Strategic Plan, to guide their efforts to grow alumni engagement.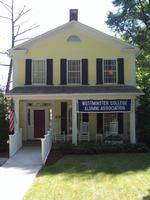 Welcome to Wiley Alumni House
565 S. Market Street, next to Eichenauer Hall