The Westminster College Alumni Association was established in 1884. All graduates of Westminster are Association members. The events and activities of the Association are guided by the leadership of the Alumni Council.

For further information about Alumni Council activities or the annual Alumni Association meeting contact the alumni office at alumni@westminster.edu or (724) 946-7364.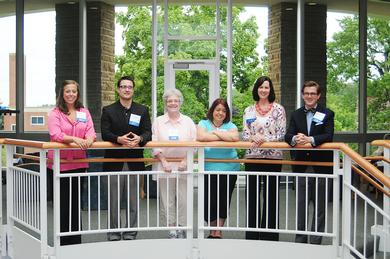 Council welcomed new members at their fall meeting.
Pictured from left to right: Lindsay Painter Coulter '06, Lee Knight '07, Deborah Lechien '71, Sherris Moreira '97,
Meredith Vance Shafer '94 and Ryan Kirk '09.
Missing from picture: Akesha Joseph '08, Brenda Pawk Oman '80 and Alex Scull.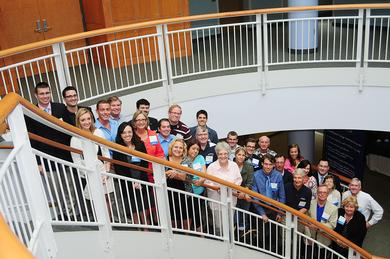 2012-2013 Alumni Council Members
Rich McKenna '84
President
Pittsburgh, PA
richard.mckenna@comcast.net

Ryan Kirk '09
Pittsburgh, PA
ryanwkirk@gmail.com



Ashley Carnahan Downey '09
Vice President and Chair, Westminster Stories & Engagement Committee
Monroeville, PA
acarnaha@tepper.cmu.edu
Lee Knight '07
Boardman, OH
knightlw@gmail.com


Zach Beresh '02
Pittsburgh, PA
zachberesh@yahoo.com
Brian Kocian '03
Chair, Homecoming Committee
McDonald, PA
briankocian@yahoo.com


Amy Dietrich Bonnar '94
Chair, Career Building & Professional Networking Committee
Beaver, PA
jabonnar@comcast.net
Michelle Landers '91
Boardman, OH
mjl0849@sbcglobal.net


Chris Borsani '04
Chair, Annual Giving Committee
Upper St. Clair, PA
cborsani@tuckerlaw.com
Deborah Lechien '71
Mansfield, OH
dlechien@medcentral.org


Ray Cebula '66
New Wilmington, PA
cebula@pathway.net
Jesse Ligo '82
Mercer, PA
ligojr@westminster.edu


Lindsay Painter Coulter '06
Apollo, PA
lindsaympainter@yahoo.com
Rich Mills Jr. '76
Towering Titan Organization Representative
Bethel Park, PA
rpmills@uss.com


Ralph Dise '74
Shaker Heights, OH
rdise@diseco.com
Russ Mills '05
Alexandria, VA
rmills76@gmail.com



Karen Campman Emmett '75
Chair, Events Committee
West Middlesex, PA
kpemmett@verizon.net
Sherris Moreira-Byers '97
Pittsburgh, PA
sherris.moreira@gmail.com


Travis Gulling '10
Frederick, MD
sebastian1588@yahoo.com
Brenda Pawk Oman '80
Hermitage, PA
brendasoman@yahoo.com



Jordan Hinds '06
McKees Rocks, PA
jordanhinds@hotmail.com
Dennis Schotsch '75
New Wilmington, PA
wcalum75@zoominternet.net


Beau Hollowell '02
Cleveland, OH
bdhollowell@mdwcg.com
Lee Scott '07
Chair, Annual Giving Committee
Pittsburgh, PA
leerobertscott@gmail.com


Sally Keener Huey '74
New Wilmington, PA
hueysk@westminster.edu
Alex Scull '12
Fond du Lac, WI
akscull09@marianuniversity.edu


Janice Jeletic '80
Pittsburgh, PA
jjeletic@gmail.com

Meredith Vance Shafer '94
Pittsburgh, PA
merannv@yahoo.com


Akesha Nicole Joseph '08
Youngstown, OH
akeshajoseph@gmail.com
Harry Smith '66
New Castle, PA


Student Representatives:
Tawni Darby '13
Student Government Association President
darbytr@wclive.westminster.edu
Dan Vogler '81
Chair, Nominations Committee
New Castle, PA
voglerdj@aol.com


Dan Matt '13
Student Alumni Association Vice President
mattdh@wclive.westminster.edu
Lisa Warjofchik '84
Allen, TX
lisa.wargofchik@towersperrin.com