Because of You...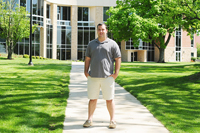 "I selected Westminster College to obtain the foundation necessary to make an impact on the future medical community, and Because of You, I am acquiring the knowledge and know-how that will assist me in an ever-evolving field. Through challenging coursework, hands-on experimentation, and faculty who encourage critical thinking in all aspects of learning, I strongly believe that Westminster College provides an unparalleled educational experience. Thanks to the Drinko Center for Experiential Learning, I have had the opportunity to present my research at the National Conference on Undergraduate Research, as well as receive a research internship at Children's Hospital of Pittsburgh. In addition to receiving a superb science education, the liberal arts curriculum has expanded my views on how many educational disciplines can work together to solve our world's complex issues. I am proud and excited to carry on the Westminster tradition of excellence into my future medical career, and I am confident that the lessons I have learned here will stay with me for many years to come."
- Jordan Zabo, Class of 2012, Marshall Twp., Pennsylvania
---
The Institutional Advancement office connects Westminster College and its various constituents. The departments of Alumni and Parent Relations, Advancement and Development Programs, Communications & Marketing, and Celebrity Series work together to advance Westminster's educational mission.
We hope you find the information you need to stay connected to Westminster.
Grady B. Jones
Vice President for Institutional Advancement
Online Career Networking
---
The Westminster Career Center is available for alumni.
Click here
for the Career Center's website.
Join the Westminster Connections LinkedIn Network.
Online Social Networking
---
Follow our social networking profiles for current campus news, alumni event information and more.
Facebook
Twitter
Vimeo
---