Because of You...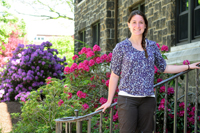 "I came to Westminster College to study English and Secondary Education, and Because of You; I have been able to see that my education extends far beyond the walls of Old Main. When I first met with my advisor freshman year, I was apprehensive as to whether I would be able to handle college course work. Through the relationships I formed with Westminster faculty and students, I have become confident enough in my work to complete the all college honors program, publish my poetry in a national journal, and present my thesis at various conferences across the nation. I have learned that my education is powerful and can carry me far. The Westminster community is truly unique and without the guidance and support I have constantly received since I first stepped foot on campus, I would have never set such ambitious goals, let alone achieved them."
- Samantha Killmeyer, Class of 2012, Medina, Ohio
---
The Institutional Advancement office connects Westminster College and its various constituents. The departments of Alumni and Parent Relations, Advancement and Development Programs, Communications & Marketing, and Celebrity Series work together to advance Westminster's educational mission.
We hope you find the information you need to stay connected to Westminster.
Grady B. Jones
Vice President for Institutional Advancement
Online Career Networking
---
The Westminster Career Center is available for alumni.
Click here
for the Career Center's website.
Join the Westminster Connections LinkedIn Network.
Online Social Networking
---
Follow our social networking profiles for current campus news, alumni event information and more.
Facebook
Twitter
Vimeo
---