Because of You...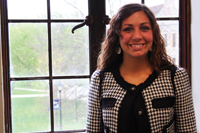 "My passion is to teach future leaders and citizens, and Because of You, I am able to study and research directly beside some of the best professors in the field of education. With Westminster Professor Dr. Charlene Endrizzi and student Jessie Szakacs '12, I was able to further study family role in the education process and how important it is to build bridges of communication between the two. I now realize that teaching goes much further than the established curriculum. Education is about ensuring success for all levels of students as well as creating a family-school partnership. It is important that we as budding educators dedicate our time to share and teach others that the wealth of knowledge that comes from this type of research is well worth the time."
- Shanay Phillian, Class of 2012, New Wilmington, Pennsylvania
---
The Institutional Advancement office connects Westminster College and its various constituents. The departments of Alumni and Parent Relations, Advancement and Development Programs, Communications & Marketing, and Celebrity Series work together to advance Westminster's educational mission.
We hope you find the information you need to stay connected to Westminster.
Grady B. Jones
Vice President for Institutional Advancement
Online Career Networking
---
The Westminster Career Center is available for alumni.
Click here
for the Career Center's website.
Join the Westminster Connections LinkedIn Network.
Online Social Networking
---
Follow our social networking profiles for current campus news, alumni event information and more.
Facebook
Twitter
Vimeo
---