Westminster College Education Professor Authors Four Academic Blog Posts on Israeli Children's Books
Posted on Monday, January 28, 2013
NEW WILMINGTON, Pa. - Dr. Charlene Klassen Endrizzi, Westminster College professor of education, recently wrote four blog posts for classroom teachers on the Worlds of Words (W.O.W): International Collection of Children's and Adolescent Literature website.
Klassen Endrizzi's W.O.W. blogs provide an overview of Israeli children's books she discovered during her summertime travels to Western Galilee College, Akko, Israel.  This brief investigation of Israeli children's books is one minor component of a larger, on-going college-wide partnership between Westminster College and Western Galilee College.
Over 30 faculty from both institutions have been engaged in various research collaborations in different subject areas for the past three years.  Additionally each institution has hosted  the Bridges International Faculty Workshop, providing opportunities for faculty members to engage in formal and informal discussions to enrich their teaching and research.
"During a three week summer visit to Akko, Tel Aviv and Jerusalem, Israeli colleagues Dr. Vered Vaknin-Nusbaum and Dr. Hagit Turjeman helped me comb various bookstores, outdoor book fairs, and museums, enabling me to interact with parents and children's librarians eager to reveal a wealth of books they regularly share with children.  Miriam Roth, a beloved Israeli author, aptly described the children's books I discovered in this way: 'Excellent literature educates. What makes it educational is its deep human content offered in an excellent artistic form.'"
All four of these blog posts offer an initial glimpse into the richness of the Jewish culture through children's books:
"Israeli Children's Books: A Parent Perspective on the Classics" explores the works of two renowned Israeli children's authors. 
"Israeli Children's Books: A Parent Perspective on the PJ Library (Sifriyat Pijama)" outlines a North American and Israeli Jewish family program offering free Hebrew children's books to preschool parents.  
"Israeli Children's Books: A Parent Perspective Beyond the Holocaust" emphasizes texts focused on dealing with common childhood experiences, not focused on one single horrific historical event so frequently explored in American Jewish children's books.  
"Israeli Children's Books: Forming a Bridge Between Cultures?" centers on one children's book authored by an 11-year-old Israeli.  Gilad Shalit's parable, How the Shark and the Fish First Met, published when he became a prisoner of war, offers his hope for peaceful coexistence between Palestinians and Israelis caught in a seemingly endless conflict.  
Click here to view all four blogs. 
Klassen Endrizzi, who serves as Westminster's faculty development officer, joined the faculty in 1993.  She earned undergraduate and master's degrees from Fresno Pacific College and Ph.D. from the University of Arizona.  She is the author of Becoming Teammates: Teachers and Families as Literacy Partners (NCTE, 2008).
Contact Klassen Endrizzi at (724) 946-7189 or email for additional information.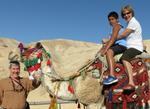 ---
More Stories