Westminster College Associate Professor to Discuss Computer Programming Contests During Faculty Forum
Posted on Monday, January 14, 2013
NEW WILMINGTON, Pa. - Dr. John Bonomo, associate professor of computer science, will present "There and Back Again" at the Faires Faculty Forum Wednesday, Jan. 23, at 11:40 a.m. in the Sebastian Mueller Theater of the McKelvey Campus Center.
Bonomo will discuss his experiences participating in the World Finals of the International College Programming Contest (ICPC). The contest provides college students with opportunities to interact with students from other universities and to sharpen and demonstrate their problem-solving, programming, and teamwork skills. Bonomo will highlight the impact his latest sabbatical has had on his participation in the world finals, and how his experiences have shaped what he teaches in the classrooms at Westminster.
Bonomo is an active organizer and problem contributor for many local and regional programming contests. He has been a judge and problem contributor for the ICPC World Finals since 2002, and in 2011 was named head judge for the competition. The competition has taken him to Stockholm, Sweden; Harbin, China; and most recently to Orlando, Fla.
Bonomo, who has been with Westminster since 1998, earned a joint master's and undergraduate degree from Catholic University and Ph.D. from Purdue University.
The Faculty Forum was established in 1990 by Dr. Barbara Faires, Westminster professor of mathematics emerita, during her term as dean of the college and vice president for academic affairs.  Faculty members from all disciplines volunteer to present lectures on their current research, artistic productions, and scholarship of teaching and learning.  Each forum presents new ideas with innovative lecture techniques.
Podcasts of the forums are available here.
Contact Bonomo at (724) 946-7287 or email for additional information. 
Contact Charlene Klassen Endrizzi, faculty development officer, at (724) 946-7189 for more information on the Faires Faculty Forum or click here.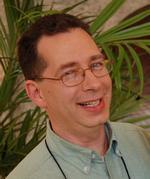 ---
More Stories