Professor Appointed to Oxford Brookes Faculty
Posted on Thursday, November 18, 2010
Dr. David Cushman, professor and chair of Westminster College's Department of Economics and Business, has been appointed visiting professor at the Business School of Oxford Brookes University in the United Kingdom.
During the three-year term, Cushman will periodically visit Oxford Brookes to present papers and collaborate with faculty and students on research. He will maintain his schedule of teaching and administrative duties at Westminster.
Cushman's first visit after the appointment was to present the paper "Purchasing Power Parity in the Post-Bretton Woods Pre-Euro OECD: Was There Any? Was It Universal?"
He is collaborating on several research projects with Professor Glauco De Vita of Oxford Brookes. One of these projects, concerning the effects of fixed vs. flexible exchange rate regimes on international investment, also involves Professor Andrew Abbott of the University of Hull (U.K.).
Cushman, who holds the Captain William McKee Chair of Economics and Business, has been with Westminster since 2005. He earned an undergraduate degree from Stetson University and master's and Ph.D. from Vanderbilt University.
Contact Cushman at (724) 946-7169 or e-mail cushmado@westminster.edu for additional information.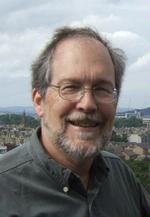 ---
More Stories