Opera Westminster to Present Strauss' "Wiener Blut" Oct. 31
Posted on Wednesday, October 14, 2009
Opera Westminster will present "Wiener Blut" ("Viennese Blood") Saturday, Oct. 31, at 7:30 p.m. in Orr Auditorium. The production is free and open to the public.
Johann Strauss' operetta, which premiered several months after his death, provides an evening of waltzes and singing.
The event is coordinated by stage director Dr. Anne Hagan Bentz, Westminster associate professor of music.
Assisting in the production are Westminster faculty Mihai Valcu as conductor and Marie Libal-Smith as accompanist. An orchestra of Westminster faculty, students, and guest artists will provide instrumental support.
Guest artist Daniel Byerly will portray Count Zedlau. The dance troupe includes Westminster students, as well as Westminster faculty Dr. Jacque King, assistant professor of business; Dr. Sandra Webster, professor of psychology and faculty development officer, who will be partnered with Ronald Webster, network technologies specialist; and community members Nathan Parrott and Bob and RuthAnn Sholler.
Contact Bentz at (724) 946-6045 or e-mail bentzah@westminster.edu for additional information.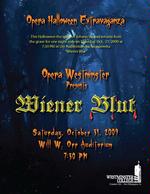 ---
More Stories