Westminster College Celebrity Series features The Ten Tenors Friday, March 31, at 8 p.m. in Orr Auditorium.
"The world-famous Ten Tenors are back by popular demand," said Gene DeCaprio, director of the Celebrity Series. "Last year we were bowled over by the great vocal sound these ten voices generate. They are fun, hip, witty, and armed with their great voices and boundless enthusiasm; they are a terrifically entertaining ensemble."
This powerful and entertaining vocal group from Australia have amazed and delighted over 77 million people in sold-out concerts across four continents. The music from this classically-trained group jumps from Broadway to the Bee Gees and arias to ABBA. Visit www.tentenors.com for more information.
Westminster's Orr Auditorium was recently remodeled to include air conditioning, stage elevator, new carpeting, and re-upholstered seats, along with stage lighting and shell improvements.
Contact Connie McGinnis, assistant director of the Westminster College Celebrity Series, at (724) 946-7354 or e-mail mcginncl@westminster.edu for tickets. Visit www.westminster.edu/celebrity for series information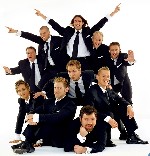 ---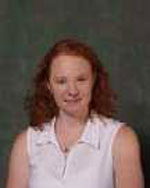 Erin Smith, assistant librarian at Westminster College, was recently published in the September issue of College & Research Libraries.
---
Armor & Sturtevant, a husband and wife due from Erie, will be holding musical court with a balloon, bottle caps, pieces of rake tine, scraps of plastic plumbing pipe, and a 1964 Nash Rambler hubcap Wednesday, Feb. 28 at 7 p.m. in Walton-Mayne Union Building at Westminster College.
---
Westminster College is among the nation's best in enhancing the educational achievement of its students, according to a national study that was just released.
---
Five Malawians will speak at Westminster College Monday, Sept. 25.
---
The Westminster College Faculty Woodwind Quintet will perform Tuesday, April 17, at 7:30 p.m. in the Berlin Lounge of the McKelvey Campus Center. The concert is free and open to the public.
---
Jeffrey Skubick, a Westminster College junior history major, recently received the Mervin Feldman Memorial Scholarship.
---
Click here to view online
Click here to view online
Two groups of Westminster College students produced documentaries that won awards in The Christophers' 21st Annual Video Contest for College Students.
---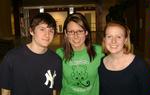 Three Westminster College students selected to participate in the 2009 Small College Intercollegiate Band March 24-28 at the University of Texas in Austin earned high placement at the 100-member ensemble.
---
Theatre Westminster will present Moliere's The Misanthrope Feb. 18-21 in Beeghly Theater.
---
Displaying 4011-4020 of 5266 total records