Of Ships and the Sea
(April 2002)
Knowledge of classical culture has always been a focus of interest in liberal arts colleges. It is not, therefore, surprising that an earlier generation chose to call the Westminster College yearbook Argo and the College newspaper The Holcad.
Both names are nautical terms; it was a story of Greek mythology that Argo was the ship in which a band of heroes went with Jason to fetch the Golden Fleece. Holcad was the Greek word for a "ship of burden" -- in other words a sea-going freighter. A third vessel would represent Westminster in the 1940s; it was a Victory ship named for the College and that it was named for us is a further tribute to this institution.
For the United States of America the Second World War was a foreign war. However great were our human and material sacrifices -- and they were of heroic proportions -- the war did not bring direct military conflict to these shores. Our crusade on behalf of humanity and justice was fought across two vast oceans. That American military force could be brought to bear on such "short notice," on so tremendous a scale and with such success was a result, in large measure, of our truly superior capacities of transportation and communication. The contribution of American logistical service was as important as the contribution of our combat forces, albeit in a very different definition of sacrifice.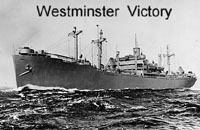 At the beginning of our military involvement in the war this nation was, literally, without capacity to fight, for want of trained soldiers, sailors and airmen and for want of the sea-going capacity to transport men and matériel to the areas of combat. As men were trained and weapons and supplies were produced there was an urgent need for troop transports and cargo vessels. That need was met, in part, by the rapid conversion of every available merchant hull to military use. More important to the long-term war effort was the creation of entirely new classes of vessels. That story is of the famed Liberty and Victory ships, one of the latter types of which bore the name SS Westminster Victory.
The Liberty ship, precursor of the Victory class, was designed by the United States Maritime Commission. Emphasis was upon simplicity and speed of construction: to construct cargo vessels faster than German and Japanese submarines and surface units could sink them. Because of the urgency attached to construction of naval vessels (warships), priority consideration was given to installation in combat vessels of turbine engines, diesel engines and electric motors. Accordingly, Liberty ships were equipped with reciprocating engines -- essentially larger versions of modern automobile engines. Techniques of hull construction increasingly employed prefabricated steel and aluminum components.
It is an interesting sidelight to the history of these ships that, during the First World War, in a similar effort at prefabrication, the United States government undertook construction of pre-formed, reinforced-concrete ships. Despite the seemingly inherent violation of Archimedean principles, the ships performed well. Intended only as a temporary expedient, none remains today except for the two mouldering hulks which ran aground many years ago on sand bars off the southern coast of New Jersey near Cape May.
It is a tribute to the American political and economic system as well as to this nation's commitment to the principles of free enterprise that, although the war effort of the 1940s became intensely preoccupying, the government permitted civilian shipping firms to administer construction of the vast majority of troop and supply vessels throughout the war.
Nearly 6,000 cargo ships were built under the authority of the Maritime Commission. Almost 3,000 were "Liberties." Gradually replacing that class were the Victory ships, also mass-produced but larger, faster and with better potential to be used as peacetime commercial vessels after the war. Some were equipped with superior turbine engines and a number of that type were modified to become Haskell-class Navy attack transports (APSs). The research data about Westminster Victory is the work of Al Sternbergh who followed numerous leads and conducted extensive correspondence.
Westminster Victory was one of the more powerful turbine-powered ships of her class. A copy of the Master Carpenter's Certificate, obtained from the National Archives, indicates that she was certified as completed on March 15, 1945. She was commissioned on March 30. The ship was 455 feet long, 62 feet in breadth, with a draft of 35 feet. With a cargo capacity of 10,800 tons, the vessel could achieve a speed of 15 knots, which was approximately twice that of Liberty-class ships.
Westminster College was selected from among colleges and universities across the nation, which were considered to be of sufficiently outstanding quality and venerable lineage to be offered the opportunity to have Victory ships named for them. Only 40 institutions of higher learning were so honored; in addition to Westminster were four other Pennsylvania schools including Beaver College, Bucknell University, Dickinson College and Lehigh University. Each college was asked to raise $350 to furnish a library for the crew of its namesake vessel. Westminster rose slightly more at $408.
During February and March 1945, The Holcad gave extensive coverage to the fund-raising campaign chaired by Marjorie Boles, now Marjorie Boles Doyle, Class of 1946. In the issues of March 9 and 16, it was reported that, in addition to numerous individual contributions, the following groups each donated five dollars:

The Women's AthleticAssociation
Chi Omega sorority
Beta Sigma Omicron sorority
Alpha Gamma Delta sorority
Masquers, honorary dramatics fraternity
Pi Sigma Pi scholastic honorary
Quadrangle,independent women's club
Target, senior honorary
Alpha Sigma Phi fraternity
Kappa Phi Lambda fraternity
Sigma Phi Epsilon fraternity
Sceptre, sophomore honorary
Amounts greater than five dollars were received from:
Pi Delta Epsilon, journalism fraternity: $10.00
Residents of Hillside dormitory: $15.00
Residents of Browne dormitory: $21.37
Residents of Ferguson dormitory: $ 8.86
Residents of Jeffers dormitory: $ 6.35
Studentcontributions in Chapel (three weeks): $32.85
It is an interesting commentary upon the value of money in a less inflationary era that the College considered its official donation of $25 to be substantial and no single contribution during the campaign exceeded $50.
The same Holcad report stated that, at the launching of the ship, the College was represented by Reverend H. G. Edgar, Class of 1896, a minister in Portland, Oregon, where the ship was built.
Westminster Victory traveled long distances through dangerous waters during that last year of the war. A sense of the emotions of the crew is given in a reminiscence of the first departure from California, bound for the Pacific Theater of Operations. Entitled, "Bon Voyage," it was written by Reb Barker, a member of the ship's company:
That last night in Oakland or Frisco, then reporting back to O.A.B. [Oakland Army Base]. . . .We recall that many of the boys had to be assisted to their sacks, overcome with emotion no doubt. But the next day came and we embarked at last, a few of us sincerely glad, a great many more just as sorry to be leaving the States but for the great majority, the predominant sensation was one of relief that the waiting was at last over.
After the confusion of getting settled in what were to be our new homes for well over two weeks, we crowded the decks to say "Au revoir." Rails and superstructure remained crowded as we moved away from the pier. It was 2:15, a Monday, a new week and a new way of living. No one went below until we had passed the Golden Gate. Our last memory that evening is that of the lighthouse on the breakwater outside Frisco's harbor as it flashed against the hazy mass which was all we could see of "The States."
The next day, out at sea, we began to feel the swells of the Pacific. Attendance at chow failed to break any records. In fact, there was, for a while, almost a record for non-attendance.
Either the seas relented, permitting the ship to ride a little more easily, or we became more used to the continuous roll. Coffee still spilled, however.
Among the crew of the ship was Walter Luikhard of New Castle, Pennsylvania, who generously agreed to be interviewed by Al Sternbergh. Mr. Luikhart, who is retired after working as a printer with the New Castle News for 38 years, was an Able Bodied Seaman in 1945, awaiting a berth.
I was in the Seamen's Hall where you went to sign up for a tour of duty with ships needing crew members. When the call went out for those wishing to serve on the SS Westminster Victory, I took special note because I was familiar with the name. I asked the Chief in charge if this ship was named after a small college in Western Pennsylvania. He affirmed that it was. Since I knew about Westminster and it was a touch of home, I jumped at the chance to serve aboard and said, 'Sign me up!'
A noteworthy postscript is that Walter's daughter, Tracy, graduated from the College in June, 1980.
As is true of so many aspects of the war effort, that which began heroically, and sometimes romantically, concluded less nobly, more sadly. In a one-paragraph summary statement from the Oregon Maritime Center and Museum and from the American Merchant Marine Museum Foundation of the United States Merchant Marine Academy, the final history of Westminster Victory is presented:
Westminster Victory was a VC 2-S-AP3 Break Bulk Cargo Design and allocated to the United States Army in 1945. At some point, the Army converted her to troop transport use. She was used for this into early 1947, ferrying troops to Korea. Later in that year, she was sold and renamed Steenstraete [of Belgian registry]. In 1965, she was renamed Hong Kong Amber. In June of 1973, she was sold to Kaohsiung Shipbreakers [of Taiwan].
It was her final resting place; gone but not forgotten.