Because of You...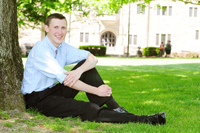 "I came to Westminster College to study Physics, and Because of You; I have begun to understand how the Universe works. Growing up gazing through telescopes, I knew that I wanted to study Astronomy in college, but I had a hard time choosing what type of school I wanted to attend: a large research-based institution or a small liberal arts college. Eventually, the prospects of small class sizes and directly guided research won out and I enrolled at Westminster. While here, I've had the opportunity to work side by side with Dr. Thomas Oberst revitalizing the College observatory. We're now in the position to take real astronomical data and have begun collaborating with major research institutions nationwide. This work has introduced me to a 'scientific community' that extends beyond the walls of Mother Fair, serving as a springboard into my future PhD work in Physics and Astronomy."
- Will Armentrout, Class of 2012, Ford City, Pennsylvania
---
The Institutional Advancement office connects Westminster College and its various constituents. The departments of Alumni and Parent Relations, Advancement and Development Programs, Communications & Marketing, and Celebrity Series work together to advance Westminster's educational mission.
We hope you find the information you need to stay connected to Westminster.
Grady B. Jones
Vice President for Institutional Advancement
Online Career Networking
---
The Westminster Career Center is available for alumni.
Click here
for the Career Center's website.
Join the Westminster Connections LinkedIn Network.
Online Social Networking
---
Follow our social networking profiles for current campus news, alumni event information and more.
Facebook
Twitter
Vimeo
---