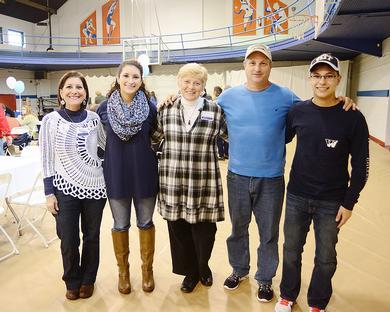 When:
Saturday, November 5, 2016
Where:
Westminster College Campus
319 South Market Street, New Wilmington, PA 16172
Cost:
$12 per adult
$8 per child
Dear Westminster Family:
You are invited to participate in one of Westminster's great traditions, Family Day, a day when we welcome the parents, siblings, grandparents, and other family members of our students to campus for a day of activities and fellowship. As a first-year president, it will be exciting to be a part of this longstanding Westminster event.
My husband, Randy, and I are eagerly looking forward to the opportunity to meet the families and to enjoy the special activities that have been planned for adults and for children. In particular, I hope all parents will join us for the Coffee with the President meeting on Saturday morning where I'll be able to share briefly about the year at Westminster and to answer any questions you may have.
We have been so impressed with the level of support and engagement our students and alumni have in the Westminster community. Whether it will be your first, fourth or tenth Family Day, please do plan to join us and to share in this great day. We look forward to seeing you on Saturday, November 5.
Warm regards,
Dr. Kathy Brittain Richardson
Registration is now open for Family Day! We want to warmly welcome you – our extended Westminster College families and friends – to Family Day 2016. We have a long history of providing the warmest of memories during this day and we hope that you can find your time on campus extraordinary. We have a variety of events planned just for you and your loved ones – so take part and enjoy all that this day has to offer. We also encourage you to take a stroll up town to New Wilmington. The area businesses have prepared their shops for your arrival.
SATURDAY'S SCHEDULE OF EVENTS
9:30 - 10:30 a.m. Coffee with President Richardson (It's on us!) 
Berlin Student Lounge, 2nd Floor McKelvey Campus Center
11 a.m. - 1 p.m. Family Chili Bar
The Titan Club (Online registration is now closed. If you wish to attend, please contact Nicole Hunter at hunterna@westminster.edu.)
*NO REFUNDS WILL BE GRANTED AFTER TUESDAY, NOVEMBER 1 at 4:30 p.m.
11 a.m. - 1 p.m. Student Alumni Association Food Pantry Drive
Titan Club (Donate your non-perishables to support local charity)
1 p.m. Titan Football Kickoff vs. Case Western Spartans at Burry Stadium
Tickets may be purchased at the Family Chili Bar or at Burry Stadium at game time (Adults - $6, Students & Seniors - $3, WC Students - FREE with ID) 
1 p.m. Snacks and face painting at the game!
7 p.m. Magic Show by Joel Myers, 
Berlin Student Lounge, McKelvey Campus Center
7 p.m. Roman Catholic Mass
Wallace Memorial Chapel
PLACES TO EAT ON CAMPUS
The TUB Food Court: 9 a.m. - 7 p.m. 
Jazzman's Coffee Shop: 9 a.m. - 7 p.m.  
Titan Club: 6 p.m. - 12 a.m.
Duff Dining Hall: 11 a.m. - 1 p.m.
PLACES TO SHOP ON CAMPUS
Titan Gift Shop: 9 a.m. - 3:30 p.m.
Second Floor, McKelvey Campus Center 
ADMISSION TOUR
Is there another future Titan in your family? Contact the Office of Admission at 724-946-7100 or 
www.westminster.edu/admissions and schedule a tour of campus!
FAMILY DAY DEALS & SPECIAL OFFERS
The Fractured Grape
Open from 11:30 a.m. – 10:30 p.m. 

The Fractured Grape will offer free wine samples and $1 off glasses of wines and beer to those who are 21 and older. They will also offer $1 non-alcoholic options for those under the age of 21. Large variety of family style board games for people to enjoy while they visit. Contact Capri Mateer at 724-382-7327 or capri@nova.wine for more information.
The Jacqueline House Bed & Breakfast
The Jaqueline House will welcome Westminster College families at the Westminster rate of $120 for all rooms, PLUS will offer an additional 10% off. 
MORE RESOURCES
For additional information, please contact Nicole Hunter at hunterna@westminster.edu or 724-946-7373.
Reservations due by Friday, October 28, 2016