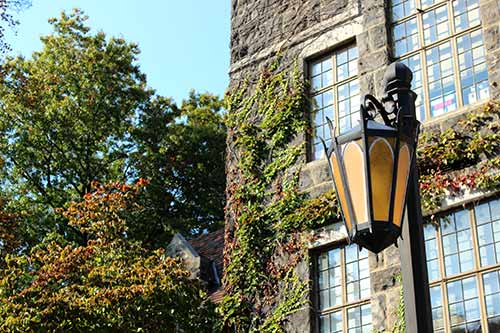 From a curricular perspective, Westminster's vision of a liberally educated person is achieved from a four-year integrated course of study involving general education, prescribed graduation requirements, a major, and electives. At the center of the curriculum is the common core, Liberal Studies, a course of study spanning all four years of the undergraduate experience. The entry point of Liberal Studies is Inquiry 111, a semester-long, first-year core requirement for all students. Communication skills are developed in conjunction with the Inquiry course. Students enroll in semester-long courses in writing and oral communication. The middle two years of the undergraduate experience are devoted to cluster courses and to courses satisfying prescribed Intellectual Perspective requirements. The general education curriculum culminates in a senior year capstone course in the major.
Throughout the entire curriculum, the applied use of sophisticated information technologies is emphasized in order to enhance teaching and learning, and to provide students with knowledge acquisition skills necessary for a lifetime of learning. Finally, the process of liberally educating students is completed by combining general education with in-depth course work in a major and with electives.
Liberal Studies Curriculum
---
The Liberal Studies portion of the curriculum is the common core for all students. This program of study is a four-year series of courses crafted to foster collaborative learning and the integration of knowledge, and structured to facilitate the acquisition of learning skills and the development of a community of learners.
Liberal Studies has four complementary parts: (A) The First-Year Program; (B) Intellectual Perspectives; (C) Cluster Courses; and (D) Senior Capstone.