Ever Higher: The Campaign for Westminster College Increases Goal to $50 Million
Posted on Monday, November 12, 2012
NEW WILMINGTON, Pa. - Ever Higher: The Campaign for Westminster College was so successful during its non-public phase that the Board of Trustees approved raising the campaign goal to $50 million during its Nov. 3 meeting.
Westminster College launched the public phase of the most successful fundraising campaign in the independent liberal arts college's 160-year history on September 21 with a campus-wide celebration and announcement that Westminster had already raised $36.4 million for Ever Higher: The Campaign for Westminster College.
Most colleges expect to raise about half of the campaign goal during the initial, or quiet, phase of the campaign. Westminster reached 91 percent of Ever Higher's $40-million goal during the past two years. Ever Higher, with several years remaining in the campaign, has raised $37,241,558 and surpassed the $35 million raised by Westminster's Heritage Campaign in the early 1990s.
"From an initial working goal of $40 million, we have had outstanding success from the generosity of alumni and friends of Westminster," Westminster College President Dr. Richard Dorman said.  "Their generosity and belief in Westminster's mission empowers us to increase our ambitious goal and invest in our students, faculty, facilities and programs."
The goal for the "People & Programs" component of the campaign was increased to $15 million from $9.5 million, and the goal for "Facility & Campus Improvements" increased from $16.5 to $21 million.
Ever Higher: The Campaign for Westminster College priorities:
People & Programs -- $15 million for endowed scholarships, faculty development, academic program enhancements, and the John & Elizabeth Drinko Center for Experiential Learning
Facility & Campus Improvements -- $21 million for Patterson Hall renovation, Hoyt Science Center renovation, construction of Berlin Village Phase II student townhouses, athletics, and campus landscaping
The Westminster Fund -- $8 million in annual gifts to the Westminster Fund scholarship contributions to reduce educational expenses for all students and enhance academic, athletic, and student life programs
 Legacy Gifts for Our Future -- $6 million in future gifts to endowment through trusts, bequests, charitable gift annuities, and other long-term arrangements to create a permanent donor legacy
"Ever Higher is all about the students and the myriad ways they will benefit from the generosity of our donors," according to Gloria Cagigas, vice president for institutional advancement. "Westminster is blessed with loyal alumni, faculty, staff, and friends of the College who choose to make an investment in Westminster's people and programs. They understand that enriching the lives of our students will pay dividends today and in the future as our students will uplift the lives of people everywhere."
Click here for additional information about Ever Higher: The Campaign for Westminster College.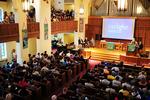 ---
More Stories