Westminster College Celebrity Series to Present The Midtown Men Sept. 13
Posted on Wednesday, August 29, 2012
NEW WILMINGTON, Pa. - The Westminster College Celebrity Series will welcome The Midtown Men Thursday, Sept. 13, at 7:30 p.m. in Orr Auditorium.
Christian Hoff, Michael Longoria, Daniel Reichard and J. Robert Spencer took Broadway by storm in one of the biggest hits of all time - Jersey Boys. Now they're together again, taking their sensational sound on the road. Audiences from coast-to-coast are raving about this one-of-a-kind concert experience celebrating the music of the 1960s with classic songs by The Beatles, Beach Boys, Motown, The Four Seasons and more.
"We are very excited to open our 45th anniversary season with such an outstanding show," said Director of Celebrity Series Connie McGinnis. "We welcome these four Broadway superstars and their top-shelf choreography, incredible harmonies and legendary chemistry to the Orr stage. Don't miss this high energy, uplifting and marvelously entertaining concert!"
The show is sponsored by Jameson Health System.
Tickets are available from the Celebrity Series box office at (724) 946-7354.  Click here for additional information on the show.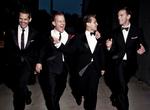 ---
More Stories