Want to know what it's like being a Titan? Come see for yourself!
---
Most of our incoming students live in one of our residence halls conveniently located close to campus. By the time you're an upperclassman, you'll be able to choose where you get to live through room drawings and off-campus applications. Whether it's your favorite room in Eich, an off-campus apartment or one of our townhouses with your friends, where you live is one of the biggest parts of your college experience!
---
Enjoy a delicious sandwich from the TUB food court or eat buffet-style at Duff Student Restaurant. There are plenty of options! No worries, you can always pick the meal plan that matches your appetite.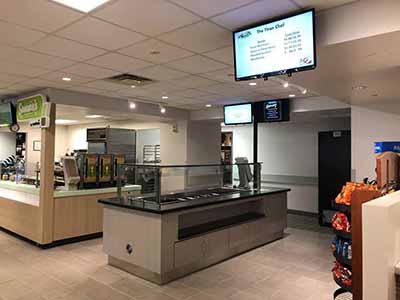 ---
Athletics, intramural sports, working out, dance, rock climbing, fitness classes – we've got you covered! Your physical well-being is just as important as your mental/emotional and overall well-being too. Our student health care center and college counseling services are committed to the health and personal growth of all students.
---
Do you see yourself as the next student leader? Or maybe you want a safe place to hang out with people who share your same interests. We have 18 national honor societies, over 50 special interest organizations, 5 student media outlets, student governance opportunities and Greek life organizations to choose from. And if any of these don't match your interest, you can always start your own!
---
Westminster is home to students of all faiths, and we provide many ways to help you grow in your journey. There are opportunities to worship here on campus and chances to serve locally, nationally and even internationally!