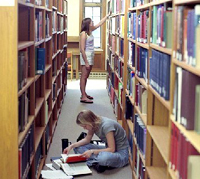 The Westminster College Friends of the Library was established in 1984 with the purpose of promoting and enriching the resources, facilities and usefulness of the Westminster College Library. Membership is open to anyone interested in helping advance the library by their financial contributions, by donating materials, and/or by volunteering help with special projects.
The group puts out a twice-yearly newsletter and holds two meetings a year: an event on Homecoming weekend and a spring event, which includes the annual business meeting.
If you are interested in joining, send an email to the Development Office asking to be added to the FOL mailing list.