Faculty development at Westminster College is an ongoing process to keep the faculty at their best in their teaching, scholarship, and the necessary intersection of those two activities. Faculty development activities include:
The weekly Faires Faculty Forum where faculty members present their recent scholarship.
Small group training sessions on current topics in technology, teaching, and scholarship.
Formal development seminars for new faculty members and for all faculty members.
Support for faculty scholarship in the forms of conference funding, research grants, and faculty development grants.
Peer review of faculty writing through the faculty writing center
Sabbatical proposal preparation and review.
Consultation on internal award and external grant applications.
Classroom observation
Individual consultation on any faculty development issue
Faculty Development-Funded Research Highlights
---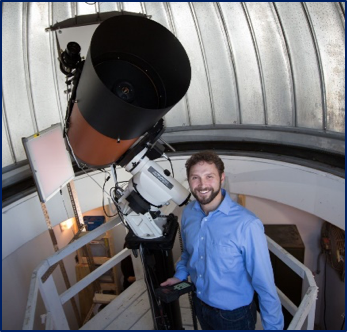 Dr. Thomas Oberst, Associate professor of Physics, has been awarded the 2016-2017 Henderson Lectureship for his research in astrophysics. Tom has discovered more than a dozen exoplanets, the nature of which are detailed in several, peer-reviewed publications. The Henderson Lecture was founded by Dr. Joseph R. Henderson and his wife, Elizabeth, to encourage and recognize original and continuing research and scholarship among Westminster College faculty, and to afford the opportunity for faculty to share their learning with the community.
Other Westminster College Faculty Development Awards
---
WATTO AWARDS: The Watto awards were endowed by Ruth and George Watto, to encourage continued faculty scholarship and research. This year's recipients are
Angela Lahr, Assistant professor of History; US religious history and history of the cold war
Kristenne Robison, Associate Professor of Sociology and Criminal Justice; innovations in prisons
Daniel Perttu, Associate Professor of Music Theory and Composition; music composition
Michael Aleprete, Associate Professor of Political Science; third party interventions in war, the political geography of border areas, U.S. and Russian foreign policy, nationalism and peacekeeping.
McCANDLESS AWARD: The McCandless award was endowed by the estate of J. Bardarah McCandless, Professor of Religion, 1961-1994, to support faculty scholarship. This year's recipient was Dr. Sararose Lynch, Assistant Professor of Education. Her research interests focus on classroom mathematical discourse, pre-service mathematics teacher preparation, and mathematics instruction for students with disabilities.
HOON AWARDS: The Hoon awards were endowed by the estate of Dr. William Legrand Hoon, who graduated from Westminster College in 1937 with a degree in chemistry. The award is intended to encourage scholarly activity. This year's recipients were Dr. Charlene Klassen Endrizzi, Professor of Education: preservice teachers in diverse school settings and building bridges of understanding between teachers and families; Dr. Kristen Park, Professor of Sociology: Scholarship of teaching and learning; and Dr. Karen Resendes, Associate Professor of Biology: nuclear transport and cancer biology.
Contact
---

Carolyn K. Cuff
Faculty Development Officer
ccuff@westminster.edu
View Profile
Visit Website
(724) 946-7291
Office of Faculty Development
326 Patterson Hall

Open Hours:
Thursday 2:00 – 5:00 p.m.