​Westminster College Pre-Service Teachers Conduct Math Night at Union Elementary School
Posted on Monday, June 16, 2014
NEW WILMINGTON, Pa. - More than 30 Westminster College early childhood/special education majors participated in a Math Night at Union Elementary School in New Castle during the Spring Semester.
The night included a jungle theme and the Westminster students (pre-service teachers) provided the students and families with games and technology applications, including Apps and website games that they could use to practice mathematics topics at school and home. Pre-service teachers from Early Childhood Practicum, Special Education Practicum and student- teachers at Union Elementary School co-planned this event.
"Math night is a beneficial opportunity for all involved," said Dr. Sararose Lynch, assistant professor of mathematics education/special education.  "The elementary students and families are engaged in activities that that can be used at home to practice mathematics in a fun way, while the pre-service teachers get to learn in an authentic manner while providing a service to our local community."
Contact Lynch at 724-946-7185 or email for more information.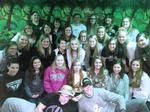 ---
More Stories