Westminster College Celebrity Series for Kids to Present Junie B. Jones May 27
Posted on Friday, May 16, 2014
NEW WILMINGTON, Pa. - The Westminster College Celebrity Series for Kids will present Theatreworks USA's Junie B. Jones at 6:30 p.m. Tuesday, May 27, in Orr Auditorium.
Outspoken, precocious, lovable Junie B. Jones stars in a colorful, funny, fast-paced musical about new friends, new glasses, sugar cookies, the annual kickball tournament, and other various first-grade angst-ridden situations. Follow her adventures as she writes down the story of her life in her "Top-Secret Personal Beeswax Journal."
The musical is based on four volumes in Barbara Park's Junie B. Jones series of books: Junie B, First Grader (at Last!); Junie B, Boss of Lunch; Junie B, One-Man Band; and Top-Secret Personal Beeswax: A Journal by Junie B (and Me!).
The show is sponsored by Dr. Richard Ribarevski; Family Medical Care of Lawrence County., James L. Gardner, III, M.D., Mary C. Tanyel, M.D., Peggy McAnlis, C.R.N.P., Joe Kollar, C.R.N.P.; PCT Health Network, Inc., Pek C. Teh, M.D.  F.A.C.O.G.  Board Certified OB/GYN; Hoyt Center for the Arts; and Westminster Drinko Center for Experiential Learning.
Tickets are still available from the Celebrity Series box office at 724-946-7354. Visit www.westminster.edu/celebrity for additional information.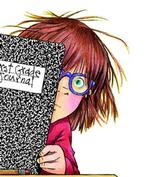 ---
More Stories