​Westminster College Chemistry Professor, Students, and Alumni Participated in Pittcon
Posted on Thursday, May 1, 2014
NEW WILMINGTON, Pa. - Thirteen Westminster students and Dr. Helen Boylan, Westminster College associate professor of chemistry, participated in the Pittsburgh Conference on Analytical Chemistry and Applied Spectroscopy (Pittcon) in March in Chicago.
Pittcon is one of the largest analytical chemistry conferences in the world with more than 18,000 attendees, hundreds of technical presentations, and nearly 1,000 exhibitors.
Boylan is an organizing committee member for Pittcon, and for this year's conference she served as conferee networking chair-elect. Boylan also arranged a conferee networking session, "Is Chemistry Still a Man's World? If So, Then How to Succeed."
Boylan, a Westminster alumna who joined the faculty in 2001, earned a Ph.D. from Duquesne University.
Chemistry alumnus Ian Mitch Taylor `08, a graduate student at the University of Pittsburgh, helped to facilitate a networking session on "Managing a Successful Graduate School Experience."
Additional alumni that participated at the conference include Theresa Swanson `09 and Andrew Davic `09.
Twelve of Westminster's students also worked at the conference as student aides.  All students received travel/presentation grants from Westminster's Drinko Center for Experiential Learning to attend the conference.
The Drinko Center for Experiential Learning was created to enrich undergraduate education at Westminster through advancing world-class teaching as well as by participating in collaborations that address community and regional needs including strengthening K-12 education.  The Undergraduate Research Initiative provides funding for students to conduct research and to present their research at regional and national conferences. 
Contact Boylan at 724-946-6293 or email for additional information on the research or the conference.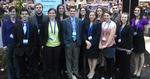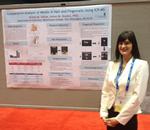 ---
More Stories