Westminster College History Majors Present Research at Wilmington Township Civic League
Posted on Thursday, April 17, 2014
NEW WILMINGTON, Pa. - Westminster College sophomore history majors Taylor Brooks and Krystina Rothhaar presented "Women's History Month in a Westminster College Context" at the Wilmington Township Civic League meeting in March.
Brooks and Rothhaar, utilizing research done for a Fall Semester course in historical methods, described the origins of Women's History Month, highlighted the role of Westminster College as path-breaking institution in the history of women's post-secondary education, outlined the enrollment patterns of female students, and described the achievements of several notable Westminster alumnae.
Brooks is a daughter of Guy and Michele Brooks and a graduate of Jamestown Area High School.
Rothhaar is a daughter of Robert and Beverly Rothhaar of Callery and a graduate of Seneca Valley High School.
The students were invited to speak at the meeting by Diana Caiazza, Civic League president. They were mentored by Dr. Angela Lahr, assistant professor of history, and Dr. Patricia Clark, associate professor of history. The audience included Dr. Floyd Zehr, professor of physics emeritus and several Westminster alumnae from the classes of the 1940s to the 1980s.
Contact Lahr at 724-946-6246 or email for additional information.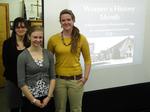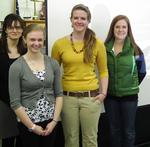 ---
More Stories