Westminster College Foster Art Gallery to Host Reception April 4
Posted on Monday, March 31, 2014
NEW WILMINGTON, Pa. - Westminster College's Department of Communication Studies, Theatre and Art will host an art gallery opening and reception for Westminster senior fine art major Steve Totin from 5-8 p.m. Friday, April 4 at the Foster Art Gallery in Patterson Hall. A reception will include a gallery talk by Totin at 6 p.m.  The event is free and open to the public.
Totin's exhibition "Un-Natural Transformation" will run from April 4-May 17 and will feature five sculptures/installations made of found plastic material, such as bottle caps and shopping bags.
"My work derives from experimentation, play, and discovery using found materials," Totin said. "These creative modes of learning help me develop unique processes to manipulate found plastic material in order to create my desired forms. My sculptures are organic in shape and are often inspired by forms found in nature. By using found plastic materials, I explore and present the many associations that come with them such as, nature and the environment, growth and decay-or the lack thereof, scientific discovery, manufacturing, and consumerism."
Totin continued, "Bottle caps, plastic bags and other trash we throw away undergo multiple processes from production to consumption. Once the manufactured objects reach the consumer, that consumer then uses the objects for a specific purpose, often depreciating the objects value almost instantly. After the objects cycle through these processes, the consumer ultimately discards them.  Throughout all of these processes, the objects gain potential energy that is lost when they are discarded. My work eliminates the discarded phase and recovers the objects, placing them in a liminal state as works of art." 
Totin is a son of Ronald and Lisanna Hancox-Totin and a graduate of New Castle High School.
The Foster Art Gallery is open from 9 a.m.-5 p.m. Monday-Friday, and hosts six exhibits annually. Regional, national, and international artists are also brought to campus for exhibits and lectures.
Contact Summer Zickefoose at 724-946-7267 or email for additional information.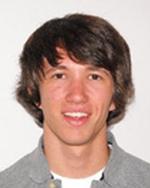 ---
More Stories