Westminster College Associate Professor Published by The College Mathematics Journal
Posted on Monday, March 24, 2014
NEW WILMINGTON, Pa. - Dr. John Bonomo, Westminster associate professor of computer science, had his article, "Not All Numbers Can Be Created Equally," published in the January 2014 edition of The College Mathematics Journal.
Bonomo is an active organizer and problem contributor for many local and regional programming contests. He has been a judge and problem contributor for the International Collegiate Programming Contest world finals since 2002, and in 2011 was named head judge for the competition. The competition has taken him to Stockholm, Sweden; Harbin, China; and Orlando, Fla.
Bonomo, who has been with Westminster since 1998, earned a joint master's and undergraduate degree from Catholic University and a Ph.D. from Purdue University.
Contact Bonomo at 724-946-7287 or email for additional information.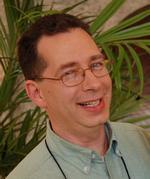 ---
More Stories