Westminster College's Environmental Programs to Host Lunch Seminar on Earthquakes and Nuclear Discrimination
Posted on Tuesday, March 18, 2014
NEW WILMINGTON, Pa. - Dr. Richard Brazier will present "Keeping within the Radius! Accurately Located Earthquakes and Nuclear Discrimination" at 12:45 p.m. Thursday, March 20 at Westminster College's Phillips Lecture Hall in the Hoyt Science Resources Center. Brazier is the associate professor of mathematics and geology and the interim associate dean for faculty and research for University College, Penn State University.
Brazier will discuss how the international nuclear monitoring community compares potential explosions to known earthquakes at the same location to perform a discrimination. A potential event can be searched for within a 5 kilometer radius of a suspected location. This necessitates a database of accurately located earthquakes for comparison.
In many cases these ground truth (GT) events are identified by global earthquake location accuracy criteria. There are many local seismic networks deployed across the world that record thousands of potential GT events that fail to meet the global criteria. The nuclear monitoring community has been developing location criteria for temporary and local seismic deployments in varying geological setting to expand their capabilities.
Brazier is a data oriented applied mathematician whose primary application is to seismology. His most recent work has been stochastic and inversion methods, such as bootstrapping, genetic algorithms, and tomography to determine the structure of the Earth and identify accurately located earthquakes.
Contact Leslie Watson at 724-946-6279 for additional information.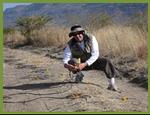 ---
More Stories