Westminster College's Environmental Programs to Host Lunch Seminar on Aquaponics
Posted on Wednesday, February 12, 2014
NEW WILMINGTON, Pa. - Sarah Wilhelm will present "Aquaponics: Food for the Future" at 12:45 p.m. Tuesday, Feb. 25 at Westminster College's Phillips Lecture Hall in the Hoyt Science Resources Center. Wilhelm was hired by Youngstown City Schools in 2012 to build the first high school level aquaponic facility in Ohio. The event is free and open to the public.
Aquaponics is the raising of fish and plants in a closed ecosystem. This can be used as a way to provide locally grown fresh vegetables and fruits to a community that may not have access to these necessities, especially during the winter months. The waste produced by the fish provides nutrients for the plants, which absorb the minerals and leaves clean water for the fish. The system uses less water than traditional agriculture.
After building the aquaponic for Youngstown City Schools, Wilhelm was asked to stay on and teach the 10th-grade class for one year. She now consults with others interested in creating their own aquaponic systems, and still maintains the aquaponic setup at Hartford Greenhouses in Hartford, Ohio.
Wilhelm earned her undergraduate degree in environmental science from Allegheny College. She became involved with aquaponics during her junior year and went on to build her own small scale aquaponics system at her home. She later used the system to conduct research for writing her senior thesis about the productivity of ornamental plants in an aquaponic system.
Contact Leslie Watson at 724-946-6279 for additional information.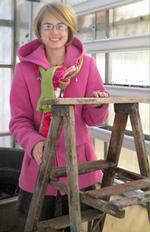 ---
More Stories