Westminster College Student and Associate Professor Present Research at Chemistry Conference
Posted on Tuesday, January 7, 2014
NEW WILMINGTON, Pa. - Westminster College chemistry major Danielle Murtagh and Associate Professor Dr. Helen Boylan presented a research paper titled "Produced Water: A Comparison of Techniques" at the Eastern Analytical Symposium (EAS) held in the fall in Somerset, N.J.
Produced water is a by-product of oil and gas drilling in which water comes up out of the well gradually over time.  This water is highly contaminated and must be treated or disposed of by deep well injection.  Because of the high concentrations and wide range of contaminants, the analysis of this water is very challenging. 
The research team optimized methods that can be used to analyze barium and strontium, two signature components of produced water from Marcellus Shale. The research presented at EAS was a comparison of these methods and is related to a collaborative project that Boylan has with ProChemTech International, Inc., a water treatment company that has patented technology for treating produced water.
Boylan, a Westminster graduate who joined the faculty in 2001, earned a Ph.D. from Duquesne University.
Murtagh, a senior, is a daughter of Timothy Murtagh and a graduate of Mars Area High School.
Tyler Umstead, student and co-author of the research, was unable to attend the conference. Umstead, a senior chemistry major, is a son of Daniel Umstead of Butler and a graduate of Slippery Rock Area High School.
Contact Boylan at 724-946-6293 or email for additional information.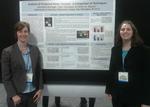 ---
More Stories