Westminster College to Present Annual Christmas Vespers Dec. 8
Posted on Wednesday, November 27, 2013
NEW WILMINGTON, Pa. - Westminster College will continue a long-standing tradition with the presentation of a Christmas Cantata, "A Deo Daus (Given by God)," at Christmas Vespers at 3 p.m. Sunday, Dec. 8, in Orr Auditorium.  The service is open to the public.
The annual worship service includes familiar Christmas music performed by a variety of vocal and instrumental ensembles; lighting of the Advent candles; Scripture readings; and "Given by God," the message from Westminster College Chaplain the Rev. James R. Mohr II.
Additional faculty and staff participating are: Anne Bruening, director of the Handbell Choir; James "Manny" Henderson, director of the Gospel Choir; Father Thomas Lewandowski, rector of St. Camillus Church in New Castle; Dr. Robin Lind, director of choral activities; Kathryn Davison Miller, Westminster College organist; and Dr. Melinda Crawford Perttu, director of the Symphony Orchestra.  The cantata was written and composed by Dr. Daniel Perttu, assistant professor of music theory and composition.
In the keeping of the Christmas spirit, there will be opportunities for the community to give back to others before and during the worship service. Angel Tree gifts purchased by members of the campus community will be displayed in Orr Lobby. The gifts will go to children in the Big Brothers/Big Sisters program in Lawrence County, the Walker House, and Pennsylvania Homeless Children's Initiative.
A voluntary offering will be collected during the service to support students who will be volunteering for the Winter and Spring Break With A Purpose Work Trips and for the Westminster chapter of Habitat for Humanity.
Following the service, the Office of Faith and Spirituality staff will host a reception and time of fellowship in Orr Lobby.
The service will be broadcast on Titan Digital Radio 88.9 FM.
Contact Westminster's Office of Faith and Spirituality at 724-946-7117 or email for additional information.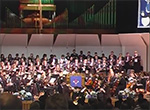 View the entire Christmas Vespers service.
---
More Stories