Westminster College Students Visit Exhibit at London's Museum of Science
Posted on Friday, November 15, 2013
NEW WILMINGTON, Pa. - Fifteen Westminster College students recently toured a special exhibit at London's Museum of Science on the life and work of Alan Turing.
The students are from the Introductory Computer Science course taught by Dr. Carolyn Cuff, Westminster professor of mathematics. The course is being taught in London for the Fall Semester.
The exhibit is part of the commemoration of the centennial of Turing's birth. Turing was a leader in the development of the Enigma, a code breaking device used to decipher German messages during World War II and he is considered to have done the earliest substantial work in artificial intelligence.
Contact Cuff at ccuff@westminster.edu for additional information.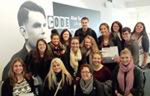 ---
More Stories