Westminster College Students Harvest Corn for Food Bank
Posted on Wednesday, November 6, 2013
NEW WILMINGTON, Pa. - Westminster College students spent an afternoon in September harvesting corn at Apple Castle as part of the "Performing Peace" cluster course and the Greater Pittsburgh Community Food Bank's gleaning program.
The cluster course is taught by Dr. Sherri Pataki, associate professor of psychology, and Dr. Scott Mackenzie, associate professor and chair of the Department of Communication Studies, Theatre and Art. At Westminster, a cluster is two linked courses taught by at least two faculty members from different disciplines to the same group of students, offering opportunities to integrate knowledge and to develop into a community of learners. All students are required to take at least one cluster.
Students are learning about labor and migration in Pataki's "Peace Studies Seminar" class, and with direction from Mackenzie in the "Theatre and Social Engagement" class, are creating a production around the central theme.
"This year we are focusing on social issues related to labor and migration, so this was a great opportunity for our students to a get a first-hand perspective on the lives of migrant agricultural workers," Pataki said. "This also provided an opportunity for us to give back to our community in a very hands-on way while we study topics related to human rights, labor and immigration."
During their glean session, the students picked nearly 4,000 pounds of corn. Apple Castle donated and distributed all the corn to families in New Castle who rely on the food bank to supplement their family diet. The gleaning program is just one of the ways that the Food Bank is able to supply food. The gleaning season runs from July to November. Each gleaning session lasts about three hours.
Contact Pataki at 724-946-7361 or email for additional information. 
For more information about the Greater Pittsburgh Community Food Bank click here.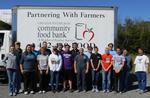 ---
More Stories