Westminster College's Environmental Programs to Host Lunch Seminar
Posted on Friday, November 1, 2013
NEW WILMINGTON, Pa. - Dr. Robert W. Nairn, professor at the University of Oklahoma (OU), will present "Reversing the Irreversible: Passive Treatment of Mine Waters in a Drastically Disturbed Watershed" at 12:45 p.m. Thursday, Nov. 7. The presentation will take place at Westminster College's Phillips Lecture Hall in the Hoyt Science Resources Center. It is free and open to the public.
In the Tar Creek watershed in Oklahoma, impacts to surface waters were once deemed to be due to irreversible man-made damages, resulting in minimal effort to address ecological and human health risk from legacy mine waters for more than 30 years. Nairn will discuss how completion and evaluation of a full-scale passive treatment demonstration project, coupled with recent watershed-scale environmental monitoring efforts, indicate that ecological engineering solutions exist.
Nairn is a professor in the School of Civil Engineering and Environmental Science at OU, and is currently on a sabbatical leave-of-absence to serve as a visiting research scientist with the Grand River Dam Authority in Langley, Okla. Nairn is the president of Watershed Restoration, Inc., president of the American Society of Mining and Reclamation (ASMR), and is affiliated with many additional environmental organizations.
Nairn earned his undergraduate degree from Juniata College in Huntingdon, Pa., and a Ph.D.  from The Ohio State University, both in environmental science. He is the recent recipient of the OU Vice President for Research Outstanding Research Impact Award, and was named the ASMR Reclamation Researcher of the Year Award.
Contact Leslie Watson at 724-946-6279 for additional information.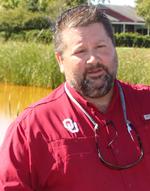 ---
More Stories