NEW WILMINGTON, Pa. - Westminster College's Office of Faith and Spirituality will host a special worship service honoring America's veterans at 11:40 a.m. Monday, Nov. 11, in Orr Auditorium. The service is open to the community.
Westminster Wind Ensemble will perform a concert of patriotic music and there will be a slide show honoring alumni, alumni spouses, students, faculty, staff and administrators of the College who have served in the armed forces.
The service will feature guest speaker retired USNR Capt. Erin Patrick Holiday. He earned his undergraduate degree in physics and mathematics at Westminster in 1986, before attending Officer Candidate School and then the Naval Justice Legal School in 1987.  In 1994, he earned a master's in telecommunications management from University College at University of Maryland.
During his career Holiday served in Guam as the command legal officer, and then the assistant CLASSIC WIZARD division officer with the Naval Security Group Department. He also served as the Operations Officer for the Naval Security Group Detachment Potomac and CLASSIC WIZARD project manager for Naval Security Group Activity at Fort Meade in Annapolis, Md. He left active duty in 1994, but held several civilian military positions until his retirement in May. He is currently employed by the National Security Agency as a network program manager.
Holiday is the father of current Westminster College students Nicholas and Jacquelyn Holiday. Holiday's father, James Holiday, graduated from Westminster in 1959.
Dr. Scott Mackenzie, associate professor of theatre and chair of the Department of Communication Studies, Theatre, and Art and a veteran who served in Iraq, is coordinating the event.
"Westminster alumni have a long tradition of supporting the nation through military service dating back to the Civil War. Since then alumni have served in every major American conflict," Mackenzie said. "In addition to alumni, we have several veterans among the current faculty, staff and students. We want to pay tribute to all the men and women who have served, and particularly those with strong connections to the College."
Contact the Rev. Jim Mohr, College chaplain, at 724-946-7117 for more information.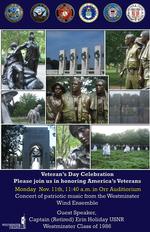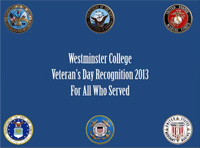 Please enjoy this brief recognition of the people of Westminster who have helped to shape history and provide the freedoms that allow so many of us to enjoy the opportunities offered by the college.