Westminster College Professor Emeritus of English Publishes Poems
Posted on Tuesday, September 24, 2013
NEW WILMINGTON, Pa. - Dr. James Perkins, Westminster College professor emeritus of English, will have a book of poems published in October.
Decembers is a collection of poems written by Perkins beginning in 1973 to accompany the Christmas cards his wife writes to friends and family each year.
According to Mercer University Press, "These poems arise out of memory, both of the author and those of others. In them Perkins is much more interested in the images of the season, the sights, the sounds, the scents, the textures, and the tastes than he is in the abstractions: joy, love, warmth, and gratitude. He is more interested in what the season is than in what it means."
Perkins, who has been with Westminster College since 1973, earned an undergraduate degree from Centre College, a master's from Miami University, and a Ph.D. from the University of Tennessee.
Perkins taught creative writing courses at Westminster for 30 years. During the fall term of 1998, he was a Fulbright Visiting Professor at Seoul National University in Korea. Perkins earned the 2006 Westminster College Distinguished Faculty Award and was previously honored as a Henderson Lecturer and a McCandless Fellow. His publications include: The Cass Mastern Material: The Core of Robert Penn Warren's "All the King's Men;" Snakes, Butterbeans, and the Discovery of Electricity, a short story collection; and Southern Writers at Century's End, co-edited with Jeffrey J. Folks.
Contact Perkins at 724-946-7342 or email for additional information.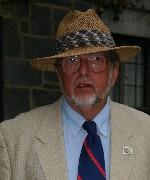 ---
More Stories