Westminster College Psychology Major and Adviser Presented at National Conference
Posted on Thursday, April 25, 2013
NEW WILMINGTON, Pa. - Westminster College senior psychology major Lyndsey Vogler and Dr. Sherri Pataki, associate professor of psychology, presented research conducted in Israel at the annual conference of the Association for Women in Psychology March 7-10 in Salt Lake City.
Vogler's presentation, "Patriarchy, Parent-Daughter Relationships and Women's Future Orientation in the U.S. and Israel," was co-authored with Dr. Randa Abass of Western Galilee College in Akko and Haya Khaldy from the Arab Academic College in Haifa.
Vogler spent a six-week internship in Israel last summer finalizing the survey for her capstone research in collaboration with Khaldy.  She presented the results at Westminster's Undergraduate Research and Arts Celebration April 24.
Pataki presented "Finding the Bridge between Modern Life and Traditional Society: Druze Women in Israel."  The research was conducted in collaboration with Abass and Dr. Carey Ryan at the University of Nebraska at Omaha.
"Both of these research projects were a result of Westminster College's partnership with Western Galilee College," Pataki said.  "The partnership enabled us to create these international opportunities and research collaborations."
Vogler is a daughter of Paula Lenox of Beaver Falls and Dan Vogler of New Castle.  She is a graduate of Blackhawk High School.
Pataki, who has been with Westminster since 2004, earned an undergraduate degree from Allegheny College and Ph.D. from Carnegie Mellon University.
Contact Pataki at (724) 946-7361 or email for additional information.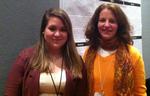 ---
More Stories